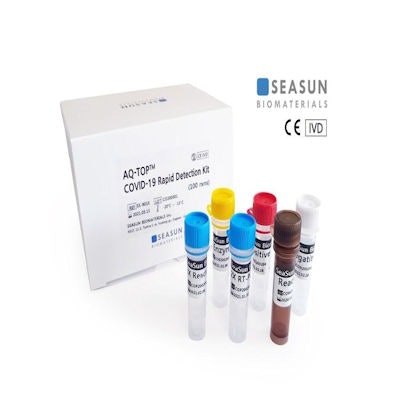 Seasun Biomaterials plans to release its second COVID-19 assay following emergency use authorization (EUA) from the U.S. Food Drug Administration (FDA).
Seasun Biomaterials' AQ-Top COVID-19 rapid detection kit is designed to target the ORF1ab gene of SARS-CoV-2 with an endogenous control human RNase P gene. The company also currently is distributing its real-time polymerase chain reaction (qPCR)-based U-Top COVID-19 detection kit to countries in Europe and the Middle East.
Both kits have received Europe's CE Mark of approval as IVD devices. The AQ-Top COVID-19 kit is pending clearance from Korea's Ministry of Food and Drug Safety (MFDS). The U-Top COVID-19 detection kit has received approval from the MFDS and the FDA through the EUA pathway.