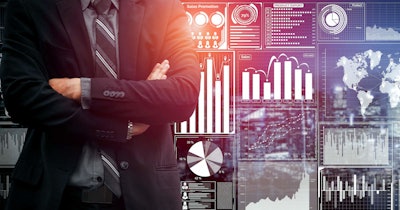 The world market for molecular diagnostic testing has reached $21.3 billion, according to market researcher Kalorama Information.
Kalorama, part of Science and Medicine Group and sister brand to LabPulse, has published its findings in the 11th edition of The World Market for Molecular Diagnostics, which is updated annually.
The market largely consists of COVID-19 sales currently, but future market growth will be fueled by other applications, the firm said.
Companies participating in the market include Roche, Abbott, Thermo Fisher Scientific, Meridian Bioscience, PerkinElmer, and Cepheid along with scores of others, offering PCR, loop-mediated isothermal amplification (LAMP), next-generation sequencing (NGS), and other molecular technologies.
But a few top companies stand out, according to the report.
Roche's resources and historical dominance in the nucleic acid amplification segment of the market have allowed it to adapt and diversify as needed. This month, Roche announced plans for the U.S. launch of its Cobas 5800 system, a compact, fully automated molecular laboratory instrument that builds on its automated, high-volume Cobas 6800 and 8800 systems and offers PCR testing for infectious disease diagnosis.
Hologic claims a large market share through its leadership in the molecular chlamydia/gonorrhea (CT/NG) and human papillomavirus (HPV) testing space. Cepheid and BioMérieux have significantly increased their market share in molecular infectious disease diagnostics over the past few years through their respective placements of GeneXpert and FilmArray systems in hospital labs.
Abbott's stake comes from its success in selling tests for the pandemic, bolstered by its previous acquisition of Alere, COVID-19 sales on the ID Now point-of-care system, and a range of molecular tests on its Alinity systems. In May 2022, Abbott received clearance for its Alinity m STI assay, which detects and differentiates between Chlamydia trachomatis, Neisseria gonorrhoeae, Trichomonas vaginalis, and Mycoplasma genitalium from a swab or urine sample collected in a healthcare setting.
Thermo Fisher Scientific benefits from its TaqPath products and other molecular diagnostics products -- Thermo recently said it has launched the TaqPath Enteric Bacterial Select Panel, a CE-IVD marked panel for detect common gastrointestinal bacteria in about two hours.
In the pandemic recovery period, other molecular IVD applications including cancer, transplant typing, and blood bank testing will drive growth.
The Kalorama Information report examines the business opportunity in each of these areas with growth rates and competitive pictures.
Without COVID-19 sales, the world market for molecular diagnostic testing sits at $10 billion, according to the report. Aside from cancer testing applications, non-COVID-19 tests such as for HPV and hepatitis will drive growth, the report said.