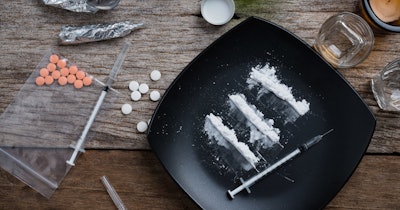 Leaders at the National Institutes of Health (NIH) and U.S. Food and Drug Administration (FDA) have emphasized an urgent need to address gaps in the research, development, and implementation of fentanyl test strips and other rapid drug-detecting tools that could help prevent overdose deaths.
Although these tools have the potential to save lives and are an important part of harm-reduction toolkits, they often remain inaccessible because of gaps in research and other barriers, including state or legal prohibitions, the leaders said in a commentary published Saturday in the New England Journal of Medicine.
In 2021, more than 60,000 people in the U.S. ages 15 to 54 died from opioid-involved overdose; many of these deaths were driven by the extremely potent opioid fentanyl, which is difficult to detect unaided.
Illicit fentanyl is being mixed with other drugs like heroin, cocaine, methamphetamine, xylazine, and in counterfeit pills, leaving many people unaware of the specific substances they are consuming.
Expanding access to innovative, inexpensive, and easy-to-use drug-checking technologies where not prohibited by law may be able to play a pivotal role in helping keep people safe, whether at home or in public, the NIH and FDA leaders said.
Fentanyl test strips are among the most well-known and easily distributable drug-checking tools to date, yet few studies have evaluated their performance and impact on public health.
This call to action encourages new collaborations among researchers and agencies to ensure the effectiveness of fentanyl test strips and promote the development of additional drug-checking technologies, the leaders said, adding that it also encourages the reduction of barriers that inhibit use of these technologies where not prohibited by law.