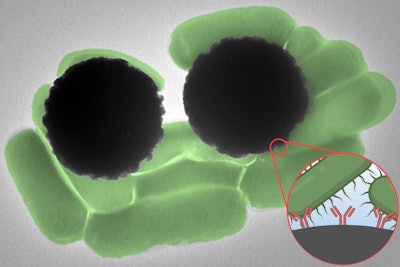 Image courtesy of Loza Tadesse, Marissa McDonald, et al.
Raman spectroscopy can accelerate the detection of pathogens bound to microscopic magnetic beads, according to a paper that will be published in the Journal of Raman Spectroscopy.
The study, which was run by engineers at the Massachusetts Institute of Technology (MIT), combined two existing technologies to reduce the time it typically takes to identify the presence of cells and biomolecules in samples such as food, water, and blood. Dynabeads, microscopic magnetic beads that bind to target molecules, are already used to purify samples; however, the current process for confirming the presence of the target molecules is time-consuming.
Raman spectroscopy, an optical technique that identifies molecules based on their signature, may accelerate the process. The MIT researchers showed that Dynabeads have an easily detectable Raman signature that can confirm the presence of the target molecules in less than an hour.
Study co-author Marissa McDonald, a graduate student in the Harvard-MIT Program in Health Sciences and Technology, explained the potential real-world applications of the Raman-Dynabead approach in a statement.
"This technique would be useful in a situation where a doctor is trying to narrow down the source of an infection in order to better inform antibiotic prescription, as well as for the detection of known pathogens in food and water. Additionally, we hope this approach will eventually lead to expanded access to advanced diagnostics in resource-limited environments," McDonald said.
McDonald and her collaborators validated the approach using Dynabeads that bind to the foodborne pathogen Salmonella enterica. However, the researchers wrote that the approach may work with "theoretically unlimited target options." The team is developing a portable device capable of detecting a range of bacterial pathogens.