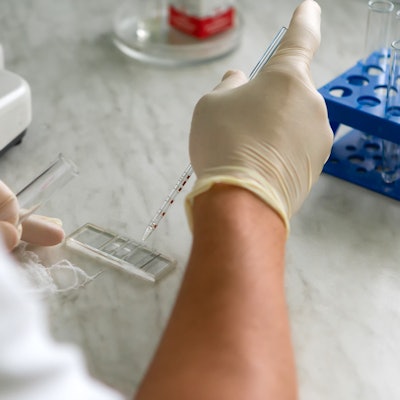 Dxcover said Monday that it is launching an infrared platform that enables faster sample analysis and improves on commercial attenuated total reflectance Fourier transform infrared (ATR-FTIR) spectroscopy for the early detection of multiple cancers.
The spectroscopic liquid biopsy technology developer noted that ATR-FTIR spectroscopy is an analytical technique that doesn't require extensive sample preparation or use of reagents.
However, traditional ATR leverages an internal reflection element that is often a fixed point of analysis which requires mandatory cleaning steps to avoid cross-contamination.
The Dxcover Infrared Platform consists of sample slides made from microfabricated silicon wafers that replace the single infrared reflection element with four sampling areas for one background measurement and three sample measurements, the firm said, adding that its Dxcover Autosampler can also automate sample slide analysis, indexing the slide across the infrared beam without user interaction.
Dxcover's cofounder and chief technology officer Dr. Matthew Baker will present an overview of the technology, including research abstracts, at the 12th International Conference on Clinical Spectroscopy (SPEC), hosted in Dublin, Ireland from June 19 through June 23.