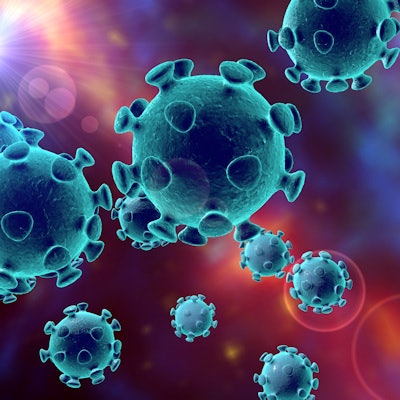 Researchers have developed a new blood assay that uses optical biosensor technology to test for SARS-CoV-2 antibodies in under 20 minutes, according to a study published on December 10 in Scientific Reports.
A team led by Rebecca DuBois, PhD, of the University of California, Santa Cruz developed the method, called biolayer interferometry immunosorbent assay (BLI-ISA), as an alternative to the traditional enzyme-linked immunosorbent assay (ELISA) that takes four to six hours to run. Biolayer interferometry measures interactions between molecules by identifying how molecules bind to the tip of a fiber-optic biosensor.
To perform the assay, the biosensor tip is dipped into material containing the antigen recognized by the antibody for which a patient is being tested; the antigen binds to the sensor tip and produces a signal. Next, the sensor is cleaned and then dipped into the patient's blood plasma sample, producing another signal as the antibodies bind to the antigen.
"Our assay is as sensitive if not better than other assays in detecting low levels of antibodies, and the specificity [false-positive rate] is as good as the best antibody tests out there," DuBois said in a statement released by the university. "It combines the advantages of the test strips that take 20 minutes with the quantitative results and higher performance of ELISA."