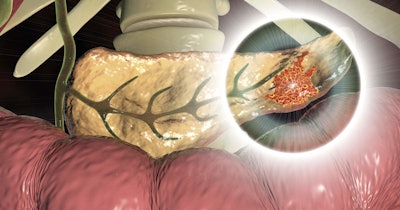 Amplified Sciences said on Tuesday it is developing a platform and tests for the early detection of pancreatic cancer and other diseases.
Tests under development by the Purdue Research Foundation-affiliated startup use dyes to identify the potential for malignancy in fluid extracted from a cyst on the pancreas. These cysts, when accurately assessed, can provide a window to earlier detection, the firm said.
"Our platform leverages patented dyes that are used as biosensors using an optical read," Diana Caldwell, president and CEO of Amplified Sciences, told LabPulse, adding that the best amplification can be obtained using Raman spectroscopy.
The company aims to enter the market by developing laboratory developed tests run from a CLIA-certified lab that it operates. However, Amplified Sciences is also developing its platform and assays so that they can be scaled "to a distributed CLIA model" and used at the point of care, Caldwell added.
Pancreatic cancer kills 74 of every 100 patients within a year of diagnosis, largely because it is rarely discovered early enough to treat successfully. "Earlier detection, followed by surgical removal, has a much better prognosis," Caldwell said in a statement.