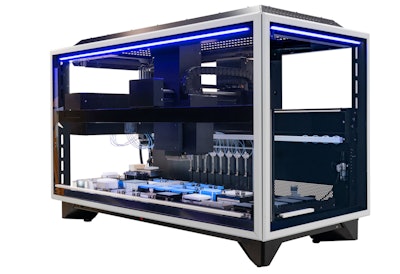 Health sciences and diagnostics company Revvity launched its Fontus Automated Liquid Handling Workstation at the 2023 AACC Annual Scientific Meeting and Clinical Lab Expo held in Anaheim, CA, from July 25 to July 27.
The workstation is a next-generation liquid handler that integrates technologies from Revvity's existing platforms. According to Revvity, Fontus was designed to streamline workflows in next generation sequencing (NGS) and diagnostic research applications, with tube-to-plate reformatting, a 96 or 384 array head, and integrated peripherals including an on-deck thermocycler, temperature modules, and labware grippers.
Revvity is currently obtaining In Vitro Diagnostic Regulation (IVDR) registration for the Fontus workstation, which will begin shipping imminently. The workstation will be available globally for pharmaceutical and biotechnology companies, contract research organizations (CROs), diagnostic labs, academic institutions, and governments.