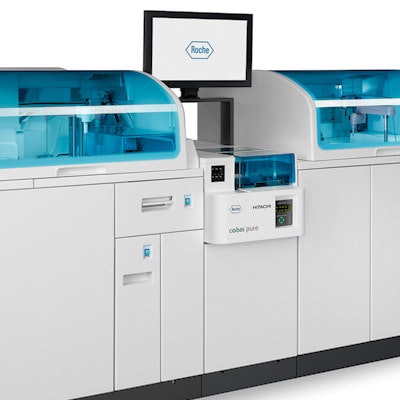 Roche Diagnostics on Monday announced that it has received 510(k) clearance from the U.S. Food and Drug Administration (FDA) for its compact, modular testing system, Cobas pure integrated solutions.
A member of the Cobas family of serum-work-area solutions, the system combines clinical chemistry, immunoassay, and ion-selective electrode diagnostic testing onto a single platform to optimize space and resources for low- to mid-volume labs. It automates manual tasks, improves productivity, and supports fast delivery of patient results, Roche said.
"This system delivers a broad menu of medical assays while simplifying operations and reducing hands-on time for laboratorians so that they can focus on the tasks that matter most," Matt Sause, president and CEO of Roche Diagnostics North America, said in a statement.
The Cobas pure solution has access to Roche's clinical chemistry and immunochemistry assay menu. Within the first year of launch, the menu will include more than 186 diagnostic tests across a wide range of disease areas, such as infectious, oncology, and cardiology, Roche said.
The system also integrates seamlessly within health networks with Roche's Cobas pro integrated solutions in their mid- to large-volume labs, the firm said.
Cobas pure integrated solutions launched in countries that accept the CE Mark in March of last year.