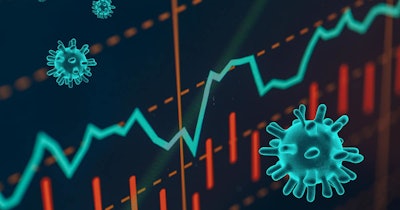 Roche on Tuesday announced a 4% year-over-year increase in Diagnostics division revenues for the first nine months of 2022.
For the nine months ended September 30, the company posted Diagnostics revenues of CHF 13.85 billion ($13.91 billion) compared to CHF 13.31 billion for the first nine months of 2021.
Diagnostics sales growth was offset by a sharp drop in third-quarter sales related to COVID-19 products; Roche posted CHF 600 million in Q3 revenues for these products compared to CHF 1 billion in the same period last year.
Within the Diagnostics division on a year-over-year basis for the first nine months, Core Lab revenues of CHF 5.83 billion rose 3% compared to CHF 5.68 billion; Point of Care sales of CHF 3.09 billion rose 28% compared to CHF 2.42 billion; Molecular Lab revenues of CHF 2.74 fell 10% compared to CHF 3.03 billion; Diabetes Care revenues of CHF 1.22 billion dropped 5% compared to CHF 1.29 billion; and Pathology Lab revenues of CHF 975 million were up 10% compared to CHF 889 million.
In the Core Lab division, immunodiagnostics products, such as cardiac and oncology tests and clinical chemistry products, were the main growth drivers, Roche said. Core Lab sales grew in all regions, with the largest contribution coming from the Asia-Pacific and Europe, Middle East, and Africa (EMEA) regions.
Point of Care division products for emergency rooms and medical practices, as well as those sold directly to patients, include rapid SARS-CoV-2, blood gas, and electrolyte tests. Roche's SARS-CoV-2 Rapid Antigen test continued to be the main growth driver, especially in the Asia-Pacific and North America regions, the firm said.
Molecular Lab products for pathogen detection and monitoring, donor screening, sexual health, and genomics declined, mainly due to lower COVID-19-related sales in the North America and EMEA regions. Declines were partly offset by growth in the base business across the portfolio and by the GenMark and TIB Molbiol businesses, which Roche acquired in 2021.
Diabetes Care products for integrated personalized diabetes management for people with diabetes and healthcare professionals fell, due to expenses associated with the resolution of a rebate dispute in 2021. Excluding this effect, sales remained stable, Roche said, and the continued contraction of the blood glucose monitoring market, mainly in the U.S. and in major European markets, was partly offset by higher demand in emerging markets.
Pathology Lab products, with a focus on tissue biopsies and companion diagnostics that support specific therapy decisions for each patient, saw growth mainly in advanced staining and the companion diagnostics businesses.
Among the highlights of the third quarter, Roche noted in July, the U.S. Food and Drug Administration (FDA) granted Breakthrough Device Designation for its Elecsys Amyloid Plasma Panel, which enables Alzheimer's disease to be detected earlier. This panel measures two blood-based biomarkers, called pTau 181 and ApoE4.
In August, Roche launched the Digital LightCycler System, a next-generation digital PCR system that helps clinical researchers better understand the nature of a patient's cancer, genetic disease, or infection. It has the potential to find and quantify ultra-rare, hard-to-detect disease mutations, leading to early diagnosis and therapy decisions, the firm said.
The firm added that its newly launched PRAME (EPR20330) antibody test evaluates PRAME protein expression from patients with suspected melanoma.
Additionally, the newly launched PATHWAY anti-HER2 (4B5) test is the only FDA-approved companion diagnostic indicated as an aid in the assessment of HER2 low status in these patients. Historically, these patients have simply been classified as HER2-negative, leaving them with few treatment options. They may now be eligible for targeted therapy. Approximately half of all patients with metastatic breast cancer express low levels of HER2 receptor protein.
Roche recently launched the Elecsys IGRA SARS-CoV-2 test aimed at providing a deeper understanding of a person's immune response to SARS-CoV-2 infection or vaccination. The test will serve as an additional tool to make better-informed decisions around care, sanitary measures, and treatment options, which are particularly important for at-risk patient groups, the firm noted. The test was launched in countries that accept the CE Mark.
The company also launched its next-generation portfolio of SARS-CoV-2 Rapid Antigen tests for self-testing and professional use, which feature innovative updates and enhanced performance, building on insights gained throughout the pandemic. These tests are also used under the CE Mark.
Based on continuous analysis performed since the onset of the pandemic, all Roche molecular tests detect all SARS-CoV-2 variants, the firm added.
Roche group sales, which include revenues for its Pharmaceuticals division as well as its Diagnostics division, rose 1% year over year to CHF 47.04 billion from CHF 46.68 billion.
The company confirmed its guidance for 2022. Roche expects stable sales with sales growth in the low-single-digit range at constant exchange rates. Core earnings per share are targeted to grow in the low- to mid-single-digit range at constant exchange rates.