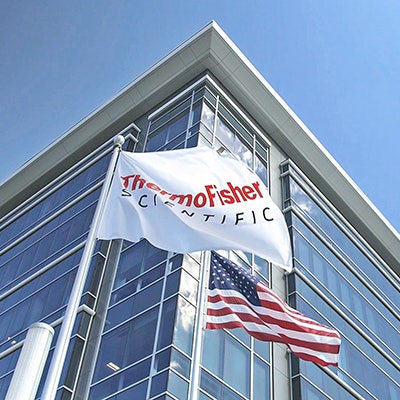 Thermo Fisher Scientific introduced a new automated sample handling system at the Society for Laboratory Automation and Screening (SLAS) 2022 conference and has also launched a rapid environmental polymerase chain reaction (PCR) test for SARS-CoV-2.
Designed to support research involving infectious disease and genetic testing, the KingFisher SpeciTrax automated sample transfer system utilizes robotics technology to process 192 saliva or nasopharyngeal samples from tube to well in 40 minutes, according to the vendor.
The system removes manual workflow steps such as decapping, recapping, and sample tracking. Furthermore, KingFisher SpeciTrax is compatible with multiple types of tubes with swabs and raw or stabilized saliva.
In other Thermo Fisher news, the firm has also introduced its Renvo Rapid PCR environmental test for SARS-CoV-2. Renvo Rapid detects SARS-CoV-2 pathogens using indoor air samples collected by the vendor's AerosolSense sampler, enabling onsite testing to be performed at communal locations, such as schools, businesses, healthcare facilities, government buildings, and other public areas. Results are available in 30 minutes, according to the vendor.