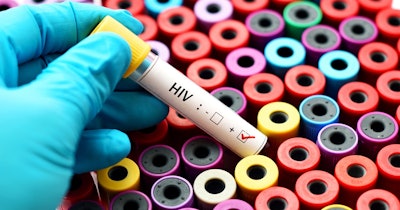 Roche has obtained additional U.S. Food and Drug Administration (FDA) regulatory approvals for its compact Cobas 5800 molecular diagnostic system, which it officially launched at the Association for Molecular Pathology (AMP) 2022 Annual Meeting last week in Phoenix.
In addition to the premarket approval for its Cobas HIV-1 assay announced last week, the company said at AMP that it has obtained approvals for tests for an HIV-1/2 qualitative assay, as well as CT/NG (Chlamydia trachomatis and Neisseria gonorrhoeae), TV/MG (Trichomonas vaginalis and Mycoplasma genitalium), EBV (Epstein-Barr virus), and BKV (BK virus) tests; all are run on the 5800 MDx system.
The approvals are part of an overall plan to make the broad menu of tests already running on its high-throughput Cobas 6800/8800 MDx systems also available on the more compact Cobas 5800.
In a statement last week, the firm said that its new system brings a shared clinical menu of molecular diagnostic tests to smaller and mid-size labs, while enabling flexibility in larger labs that may already use the firm's Cobas 6800/8800 systems or systems from other vendors.
The 5800's fully automated workflow encompasses sample transfer and preparation, amplification and detection, result calculation, and delivery to the laboratory information system, the firm added.
At AMP last week, Roche staff said it has developed the reverse transcription-polymerase chain reaction (RT-PCR) system to adapt to space constraints in laboratories and enable flexibility in testing with a system that is about half the size of its higher-throughput systems.
Among its features, the automated system enables the loading of liquid-based cytology samples for cytology testing, saving time in sample preparation, the firm said.
The Cobas 5800 enables 144 test results in an eight-hour shift and up to 528 results in 24 hours. The system, which allows laboratorians to run up to six different assays on the same 24-well plate, may be ideal for hospitals looking to bring testing in-house and reference laboratories looking to maximize the use of space, the firm said.
It's been a busy period for U.S. regulatory approvals for the Basel, Switzerland-based firm. Last month, it obtained FDA clearance for its Cobas SARS-CoV-2 Qualitative PCR test for use on the Cobas 6800 and 8800 automated systems. The firm also launched SARS-CoV-2 rapid antigen tests for self-testing and professional use in countries accepting the CE Mark.
At AMP 2022, in addition to the 5800, Roche also displayed the Cobas Prime Pre-analytical system, which enables automatic decapping, recapping, aliquoting, barcoding, labeling, and sorting of samples. The system can run in standalone mode or be connected via a track system to operate with the firm's high-throughput machines.
The company also showcased its Digital LightCycler digital PCR system, which is available for research-use applications or running lab-developed tests for clinical applications. The system leverages the physical partitioning of samples, which enables a higher resolution of detection than standard PCR, the firm said.
It can test up to 96 samples per run in about four hours and can be particularly useful when there are low concentrations of nucleic acids in samples, Roche added.