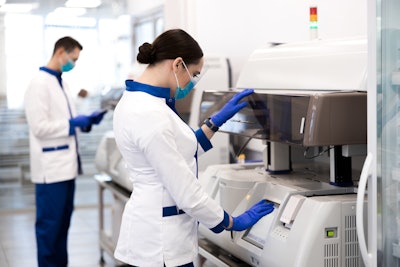 Roche on Tuesday announced plans for the U.S. launch of its Cobas 5800 System, a compact, fully automated molecular laboratory instrument that builds on its automated, high-volume Cobas 6800 and 8800 systems and offers PCR testing for infectious disease diagnosis.
Roche said it has obtained U.S. Food and Drug Administration (FDA) premarket approval for its Cobas HIV-1 assay, which will be the first in the Cobas x800 family of assays available for use on the Cobas 5800, which is a Class 2 exempt medical device.
Both the assay and the system will be available in U.S. markets in Q4 of 2022, and be showcased at the Association for Molecular Pathology (AMP) 2022 Annual Meeting, from November 1 to November 5 in Phoenix.
The system brings a shared clinical menu of molecular diagnostic tests to smaller and mid-size labs, while enabling flexibility in larger labs that may already use the firm's Cobas 6800/8800 systems or systems from other vendors, Roche said.
The 5800's fully automated workflow encompasses sample transfer and preparation, amplification and detection, result calculation, and delivery to the laboratory information system, the firm added.
The system also offers an expanded on-board capacity which permits labs to test multiple assays at once and delivers up to 144 results in an eight-hour shift, Roche said.
The Basel, Switzerland-based diagnostic industry behemoth further added that the system can provide a walkaway time of up to eight hours which improves productivity, reduces the risk of errors, and creates more predictable turnaround times.
"The new system furthers our commitment to improve patient care by broadening access to high quality test results so clinicians can make the best treatment decisions for their patients," Matt Sause, president and CEO of Roche Diagnostics North America, said in a statement.