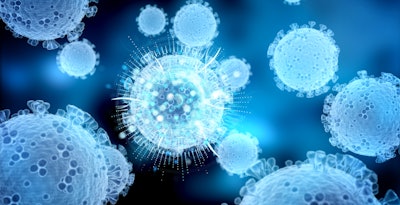 Roche Diagnostics on Monday announced that it has obtained U.S. Food and Drug Administration (FDA) 510(k) clearance for its Cobas SARS-CoV-2 Qualitative PCR test for use on the Cobas 6800 and 8800 automated systems.
The Cobas SARS-CoV-2 Qualitative assay is a single-well dual-target assay, which includes both specific detection of SARS-CoV-2 and pan-sarbecovirus detection for the sarbecovirus subgenus that includes SARS-CoV-2, Roche said.
The test has a full-process negative control, positive control, and internal control, and can run with other Roche assays on the Cobas 6800/8800 Systems, the firm said.
The test has been available in the U.S. under Emergency Use Authorization (EUA) since March 2020, Roche added.
"We are actively working with health authorities to pursue FDA-cleared status for the tests in our COVID-19 portfolio," Thomas Schinecker, CEO of Roche, said in a statement. "This will ensure clinicians and patients have continued access to accurate, reliable and efficient testing options."