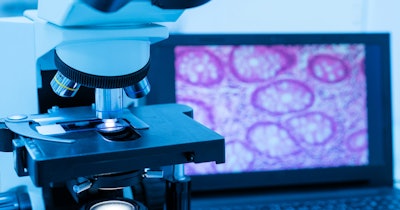 Digital and computational pathology firm Proscia on Wednesday announced the CE marking and launch of the next version of its Concentriq Dx platform for primary diagnostic workflows.
The product brings together new features to help laboratory networks transition to 100% digital diagnosis and shift away from microscope-based pathology, Proscia said.
According to the Philadelphia-based firm, the expanded Concentriq Dx digital pathology platform consists of new features and enhancements including a user experience that engages pathologists, a collaboration mode that drives higher quality services, and an enterprise administration module that enables multisite networks to scale up more rapidly.
Proscia pointed to a recent analysis of the 2021 College of American Pathologists Practice Leader Survey which indicates that only 65% of practices looking to hire pathologists could fill all open positions, marking a decline from 2017. This finding suggests a worsening shortage of available pathologists at a time when the global cancer burden is expected to rise.
"Digitization is one of the solutions to the systemic challenges plaguing the practice of pathology today," Dr. Michael Feldman, vice chair for clinical services in the Department of Pathology and Laboratory Medicine at the Hospital of the University of Pennsylvania, said in a statement.
Concentriq Dx is CE-marked under the In Vitro Diagnostic Regulation (IVDR) and available for primary diagnosis in the U.S. during the COVID-19 public health emergency.