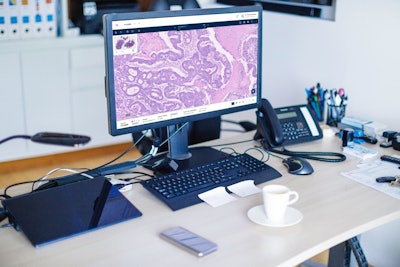 Digital pathology firm Proscia on Monday announced that Spectrum Healthcare Partners (SHCP), an independent, physician-owned practice, has selected Proscia's Concentriq Dx digital pathology platform for its pathology diagnostic services.
Concentriq Dx is a digital pathology platform for laboratory networks that enables remote image viewing and facilitates collaboration.
According to Proscia, the platform provides fast, broad access to subspecialist experts, and interoperability with scanners and image analysis applications. The firm has obtained the CE Mark under IVDR for the platform, and it is available in the U.S. for primary diagnosis during the COVID-19 public health emergency.
The increasing adoption of digital pathology has been spurred by growing demand for diagnostic services coupled with workforce shortages in the healthcare sector. The addition of the Concentriq Dx digital platform will allow SHCP to expand the reach of its experts across the healthcare systems it serves in Maine and New Hampshire.
"Concentriq Dx is critical to decentralizing our diagnostic services," Dr. Bilal Ahmad, managing director of the pathology division at SHPC, said in a statement. "It will enable us to seamlessly transition to digital pathology at scale so that we can reimagine our day-to-day operations beyond the confines of our physical laboratory spaces."