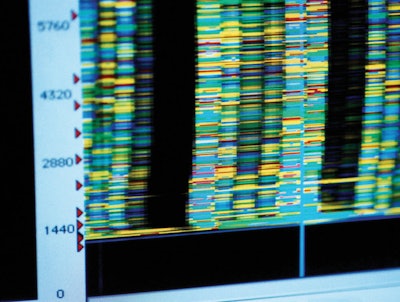 Genomics company Genomenon announced on Monday the publication of a paper in Human Mutation summarizing its findings from a comprehensive, locus-specific database of current knowledge on ENPP1 deficiency. The study was undertaken with the collaboration of Inozyme Pharma.
Researchers used Genomenon's artificial intelligence (AI)-enabled Mastermind Genomic Search Engine to identify all published cases of ENPP1 deficiency while integrating data from several published and unpublished case histories. A comprehensive database of genomic data and variants was then generated. Over 2,300 articles were analyzed with Mastermind; the articles were additionally reviewed by curators to ensure the accuracy and quality of the data.
According to Genomenon, the comprehensiveness of the data identified with its use of AI and expert review provides new insight into the heterogeneity of ENPP1 deficiency; one of the key findings was a three-fold increase in disease-causing variants not found in other databases.
The data are available to doctors, researchers, and clinicians through Mastermind, and the findings will shed light on the deficiency and possible treatment approaches, the firm said.
There are currently no approved therapeutic approaches for ENPP1 deficiency, which is a progressive condition which manifests as a spectrum of diseases. ENPP1 deficiency has a mortality rate of 50% within 6 months of birth, often as a result of generalized arterial calcification of infancy (GACI) causing myocardial infarction, stroke, and cardiac or multiorgan failure. In adults, ENPP1 deficiency may result in arterial calcification, osteomalacia, and cardiac or neurological issues.