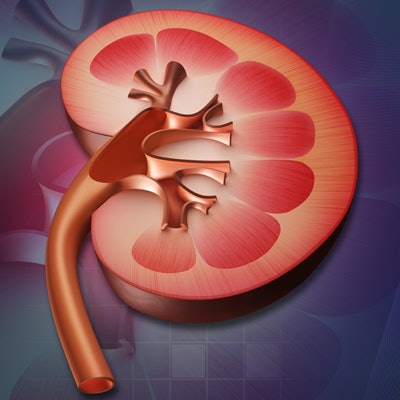 A study published on Tuesday in the Annals of Internal Medicine is alerting laboratorians to a discrepancy in the results of glomerular filtration rate (GFR) tests used to assess and monitor kidney function.
The discrepancy relates to individuals' estimated results that differ substantially from those that are measured directly, according to the authors.
Laboratories reporting estimated glomerular filtration (eGFR) rates for individuals should consider including the extent of the discrepancy, said researchers at the University of Mississippi Medical Center who led the study.
That would eliminate misinterpretation of eGFR as a replacement for directly measured glomerular filtration rate (mGFR) and mitigate any associated clinical consequences, they said.
Concerns associated with estimates of GFR may also drive an increase in the adoption of emerging methods for direct measurement, Dr. Tariq Shafi, the corresponding author for the study, said in an interview.
Glomerular filtration rate (GFR) is a standard metric used to assess and monitor kidney function.
Filters in the kidney called glomeruli help remove waste and excess fluid from the blood; the estimated glomerular filtration rate provides a calculation of how much blood passes through the filters over time.
By comparison, directly measured GFR normally requires injecting a filtration marker and measuring plasma or urinary clearance by serial blood and urine sampling under standardized conditions, a cumbersome procedure that limits its use.
As a result, filtration rate calculated from serum creatinine is often used by clinicians to predict an mGFR.
However, according to the new study, "testing platforms that report eGFR from serum creatinine and cystatin C should include some distribution of the uncertainty of estimation," Dr. Shafi said.
The researchers noted that errors in eGFR included both underestimation and overestimation.
An underestimated rate may lead to excluding patients from receiving optimal therapies, including for anticancer drugs and heart failure, while an overestimated rate "may result in patients experiencing more hyperkalemia from mineralocorticoid antagonists and toxicity from renally cleared chemotherapy," the researchers wrote, adding, "Similarly, living donor nephrectomy based on eGFR alone can be problematic."
In their study, the group calculated eGFR from serum creatinine alone and cystatin C and creatinine using the Chronic Kidney Disease Epidemiology Collaboration equations for 3,223 participants.
They compared the participants' eGFR to their mGFR to quantify the magnitude and consequences of the individual-level differences between the two and found substantial discrepancies between directly measured GFR and estimated GFR.
The researchers believe several factors contribute to these discrepancies. One contributing factor is that creatinine and cystatin C have non-GFR factors influencing their serum concentration. Furthermore, variability in the mGFR can result from normal physiology and measurement error from mGFR markers and technique.
Meanwhile, advances in nonisotopic (non-radiolabeled) GFR measurement techniques are making GFR measurement a "highly feasible outpatient procedure," the group wrote.
"Widespread availability of reliable testing for serum and urine iohexol, and non-radiolabeled iothalamate will simplify GFR measurement protocols," Dr. Shafi, a clinician scientist at the University of Mississippi Medical Center, told LabPulse.com.
"Our next step is to make the mGFR available for patients that need them," he said. "We have already implemented mGFR as part of our living kidney donor evaluation process at the University of Mississippi Medical Center."
He and his colleagues are working to make the method available for other patient groups. "We are also exploring ways to educate nephrologists and other clinicians on how to implement these measurements in their clinical practices," Dr. Shafi said.
The direct measurement of GFR based on nonisotopic GFR measurement techniques is still emerging for several reasons.
"First, in the U.S., there is no [current procedural terminology (CPT)] code to bill for nonisotopic GFR measurement, making reimbursement challenging," Dr. Shafi said. "Second, the nonisotopic methods for mGFR have evolved over the last 20 years and around the same time as eGFR reporting has become routine. Many clinicians just assume that the calculated eGFR number is as accurate and precise as the measured serum creatinine. Third, while there are extensive consensus guidelines on [chronic kidney disease (CKD)], the emphasis on mGFR has been relatively small."