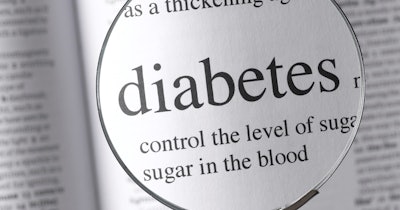 An electronic medical record (EMR) diabetes screening program in an urban emergency department identified the prevalence of undiagnosed diabetes. The report, published on Thursday in JAMA Network Open, underscored long-existing disparities in type 2 diabetes diagnosis and treatment by race, ethnicity, and socioeconomic factors. Such disparities increased during the COVID-19 pandemic.
Although early diagnosis is important to slow diabetes progression and complications, 8.5 million Americans remain unaware of their diagnosis. Urban emergency departments frequently provide primary care for minority and underserved patients -- populations with the highest rates of type 2 diabetes.
Researchers developed and piloted a three-month type 2 diabetes screening program in a Chicago emergency department. A best-practice alert flagging patients at risk for type 2 diabetes was built into EMRs.
Clinicians in the study could add hemoglobin A1c (HbA1c) tests during blood draws. The HbA1c test measures the average amount of blood sugar attached to hemoglobin over the past three months. This simple, non-fasting blood test is commonly used to diagnose prediabetes and diabetes; it also indicates how well diabetes is being managed.
Screening during the study was based on American Diabetes Association recommendations: all patients 45 years or older or 18 to 44 with a body mass index of 25 or greater, no diabetes history, and no HbA1c measurement in the last three years. Patients were later called or mailed with their HbA1c results and asked about their prior awareness and diabetes treatment. The pilot sample reached by telephone was considered biased toward a higher socioeconomic status; those not reached were likely more underserved.
Of the 8,441 patients visiting the emergency department during the pilot study, the best-practice alert triggered tests for 2,576 patients of whom 2,074 had an HbA1c result. Of these, 1,085 patients (52.3%) had an abnormal result: 758 (69.9%) had prediabetes and 327 (30.1%) had diabetes. Of those with diabetes, 62 had severe diabetes (10%).
Of the 352 patients contacted by telephone, the mean age was 52.2 years; 192 (54.5%) were women and 160 (45.5%) were men; 69 (19.6%) were Hispanic, 228 (64.8%) Black, 34 (9.7%) white, and 21 (6%) other.
The median income based on ZIP codes was at the 44th percentile of U.S. income; 176 patients (50%) had public insurance, and 14 (4%) were uninsured; 88 patients (25%) self-reported a previous prediabetes or type 2 diabetes diagnosis but only 51 (58.%) reported receiving treatment.
Given that the screening program identified a substantial number of patients at risk, particularly racial and ethnic minority and low-income patients, the researchers said improved emergency department screening for type 2 diabetes, particularly among underserved populations, is needed. Recommended next steps include implementation strategies to link new patients to diabetes education and care.