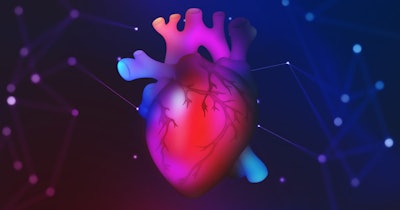 One-third of U.S. adults with diabetes may have undetected cardiovascular disease (CVD) that increases their risk of dying, according to a study published in the Journal of the American Heart Association.
CVD accounts for 40% of hospitalizations and 30% of deaths of U.S. adults with diabetes, making it the leading cause of morbidity and mortality in the patient population. The figures have driven interest in the development of ways to detect and treat CVD earlier and have led to recommendations that people with diabetes are tested for high‐sensitivity cardiac troponin T (hs‐cTnT) and N‐terminal pro‐B‐type natriuretic peptide (NT‐proBNP) every year.
Researchers at Johns Hopkins University have now generated evidence of how prevalent elevated levels of the two biomarkers are in U.S. adults, with and without diabetes, and they show how the presence of CVD affects mortality.
The team analyzed serum samples from the 1999 to 2004 National Health and Nutrition Examination Survey. By analyzing samples from 10,000 adults without a history of CVD, the researchers showed that the biomarkers were elevated in 33.4% of people with diabetes and 16.1% of people without diabetes. After adjusting for age, elevated hs‐cTnT, but not NT‐proBNP, was more common in people with diabetes.
Further work showed elevated hs‐cTnT was significantly higher in people with longer diabetes duration and worse glycemic control and linked the biomarkers to increased risk of death. Elevated hs‐cTnT and NT‐proBNP were independently associated with all‐cause and CVD mortality in the diabetic population.
Study co-author Elizabeth Selvin, PhD, a professor of epidemiology at Johns Hopkins Bloomberg School of Public Health in Baltimore, said the research adds to evidence that many people with Type 2 diabetes are at high risk of cardiovascular complications, even if they have not had a heart attack or a history of CVD. Selvin set out the implications of the findings in a statement.
"When we look at the whole population of people diagnosed with Type 2 diabetes, about 27 million adults in the U.S. according to the CDC [Centers for Disease Control and Prevention], some are at low risk and some are at high risk for cardiovascular disease, so the open question is 'Who is most at risk?' These cardiac biomarkers give us a window into cardiovascular risk in people who otherwise might not be recognized as highest risk," Selvin said.
Physicians typically try to reduce the risk of CVD in people with diabetes by using statins to lower levels of cholesterol. However, Selvin said the evidence that diabetes may have a direct effect on the heart suggests a need for non-statin-related therapies.