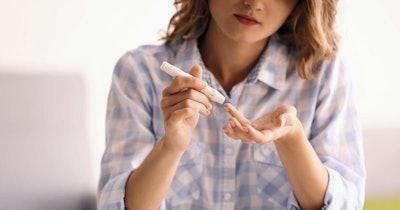 Precision Diabetes on Tuesday announced that investigators in a recent study have validated the use of the GlycoMark biomarker-based blood test in determining the highest-risk asymptomatic patients with prediabetes.
Precision Diabetes is the supplier of the test in the U.S., Europe, Australia, the Asia-Pacific Region, the Middle East, and Mexico.
Approximately 50% of people with prediabetes will develop type 2 diabetes in the subsequent decade; if caught early, the progression to diabetes is preventable. However, predicting which prediabetic patients are at highest risk of developing diabetes is not possible with current diabetes tests, such as hemoglobin A1C and fasting glucose.
Glycomark, which has been cleared by the U.S. Food and Drug Administration (FDA) and has been granted the CE Mark, is a nonfasting blood test that measures the biomarker 1,5-anhydroglucitol to identify individuals at greatest risk of progressing from prediabetes to type 2 diabetes.
The study, published in the Journal of Clinical Endocrinology and Metabolism, was conducted by researchers from the University of Geneva. The researchers sought to study the use and relevance of circulating 1,5-anhydroglucitol in human study participants as a biomarker for prediabetes.
"1,5-anhydroglucitol is a circulating biomarker of the in vivo loss of functional beta-cell mass, independently of altered glycemic control, even ahead of diabetes onset," the study authors wrote. As beta cells in the pancreas produce insulin, a functional beta-cell biomarker is important in identifying risk of progression to diabetes.
"This study not only has significant clinical implications as there has been a long search for an accurate biomarker of beta-cell function, but given the sheer numbers of people with prediabetes, it is important to target the highest-risk patients from a public health and economic standpoint," Eric Button, CEO of Precision Diabetes, said in a statement. "GlycoMark will be an important tool in stratifying these patients for follow-up treatment."