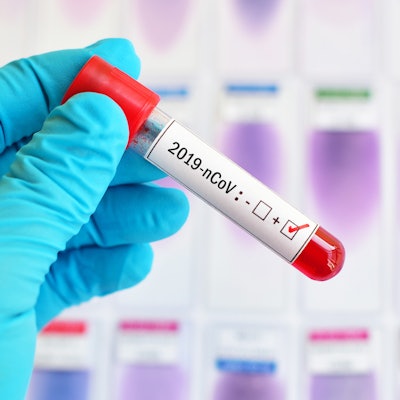 As the unfortunate milestone of one full year of the global COVID-19 pandemic worldwide is reached, the diagnostic industry has been changed, perhaps permanently. Hundreds of test products are on the market to detect the virus, both for its presence and immune response.
As of January 31, over 26 million cases of COVID-19 have been reported in the U.S., and more than 500,000 deaths. President Joe Biden has pledged a federally directed effort against the pandemic. Over 1 billion tests have been run for COVID-19 worldwide, according to the report.
This is a very high number, when it is considered that Kalorama estimated there were 9 billion tests run for general chemistries, the most common. Variants of the SARS-CoV-2 virus discovered through surveillance efforts in South Africa and the U.K. and the pace of the vaccine rollout have been raising alarm. New types of COVID-19 tests have arrived on the scene.
But the largest factor in testing growth, Kalorama found, is the presence and suggested use of rapid antigen tests for patients who may not have symptoms but may have encountered an infected individual. Increasingly there is even talk of mass testing of asymptomatic patients.
These trends and many other factors resulted in a market for COVID-19 diagnostics worth $19.7 billion by the end of 2020, a total that includes molecular, antigen, and antibody methods. What's more, that figure is projected to grow to $38 billion by the end of 2021, according to Kalorama's new report, "COVID-19 Testing Update 2021: Molecular & Antigen Markets, Procedures, Mutations, Home Tests, and Other Trends." The new publication is the fourth market research report the firm has published on the testing market for the pandemic since the outbreak began last year.
Just in the last two months, COVID-19 has affected considerable change at diagnostic companies. For example, Hologic has made acquisitions, fortified with cash from increased sales of test kits. Other companies have launched home testing kits.
GenMark was a cash-negative company and is now cash-positive, while Roche doubled its test capacity. Companies not in infectious disease testing are quickly pivoting to it. The first test for asymptomatic patients was approved, and new innovative features such as saliva sampling or ultrahigh-throughput techniques and even CRISPR are being added to tests.
COVID-19 has resulted in billions of dollars of revenue added to the IVD market. Companies have doubled and tripled revenues, bought new companies, increased manufacturing, shifted focus to infectious diseases, and launched new products.
New features have been added to tests, such as the detection of variants and mutations, SARS-CoV-2 testing in combination with influenza and respiratory syncytial virus (RSV), more specific (neutralizing) antibody detection, or ultralarge volume capacities.
A new category of testing has been created that in just one year is already rivaling all other diagnostic segments in volume. And with it, the market is changing, including a shift of top categories in IVD toward infectious disease testing and other tests related to COVID-19.
Kalorama plans continued reporting this year of its market numbers to accommodate these changes. It is the most dynamic area of testing market-wise since molecular systems came on board and started to carve out their place in the early part of the 2000s.
Bruce Carlson is the publisher of Kalorama Information, part of Science and Medicine Group.
Disclosure: LabPulse.com is a sister company of Kalorama Information.