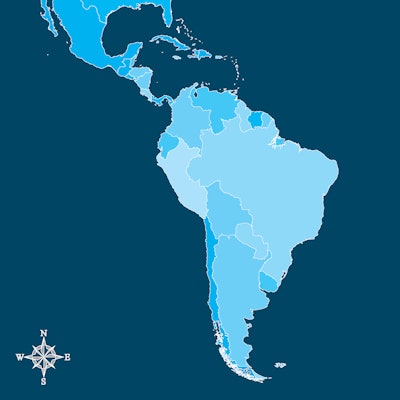 The Latin America IVD market, estimated at nearly $3.3 billion in 2020, is forecast to experience a 5.3% compound annual growth rate to reach $4.2 billion in 2025, according to a recent report by Kalorama Information, a sister publication to LabPulse.com.
The forecast growth rate for Latin America will therefore slightly outpace what's expected for the the U.S., which is the largest IVD market at $41.3 billion and makes up approximately 40%-45% of the global IVD market.
The Kalorama report, "Market for In Vitro Diagnostic Tests in Latin America (Argentina, Brazil, Chile, Colombia, Mexico, Peru, Venezuela and other nations)," focuses on the market for reagents, consumables, instruments, and more, with an analysis of more than 20 countries in the region.
"Latin America is expected to give in vitro diagnostics companies the potential for additional business opportunities in the near future, at an average annual growth rate of more than 5%," reported Kalorama Information. "Because of this growth potential, the region has become an important target for IVD manufacturers seeking expansion opportunities."
IVD growth drivers in Latin America will include population growth, government insurance, newly insured patients, and updated healthcare facilities.
One reason that Latin America is a key target for IVD manufacturers exploring expansion is that these countries represent a population of 636 million -- a large potential IVD market audience. Brazil and Mexico represent the two largest countries in terms of population, accounting for more than half of the region's total population. For this reason, these two countries have been the focus for many IVD suppliers in recent years.
However, as economic conditions strengthen in other countries and demand increases for quality health services, there are additional opportunities in countries such as Chile, Colombia, and Peru.
As in other industries, Brazil is the number one IVD market in Latin America. The Brazilian market is growing at a good pace (with some ups and downs), as are markets in Chile, Colombia, and Peru. On the other hand, due to their current political and economic situations, Argentina and Venezuela seem to be lagging behind. Overall, the region as a whole is an attractive market for IVD companies to capitalize on.
Even though market growth is attractive in Latin America, there are big challenges for the IVD industry to overcome. One of the challenges is that each country is a world of its own: different regulations on sales, many different reimbursement policies, diverse geography, various market access strategies, and a number of logistic issues, amongst others.
Since all the countries in Latin America also vary in size, healthcare infrastructure, and affordability, IVD companies need to tailor strategies for approaching each country´s market to ensure success.
Bruce Carlson is the publisher of Kalorama Information, part of Science and Medicine Group. Kalorama's market reports on IVD tests in Latin America and its companion report on IVD tests in the U.S. can be found on Kalorama's website.
Disclosure: LabPulse.com is a sister company of Kalorama Information.