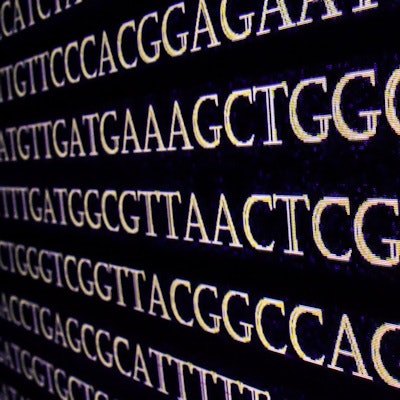 In hard-to-diagnose cases of T-cell lymphoma, targeted next-generation sequencing (t-NGS) should be used as the primary test -- not polymerase chain reaction (PCR), according to a report published in Blood Advances on November 16.
"We suggest a testing strategy using t-NGS as the primary test, followed by TCR [T-cell receptor] clonality analysis if negative," wrote the authors, led by Charlotte Syrykh of the pathology department at the Cancer University Institute of Toulouse-Oncopole in Toulouse, France.
In patients with suspected T-cell lymphomas, multiplex PCR is used to detect T-cell clones -- or the generation of T lymphocytes. However, PCR only detects 80% of T-cell lymphomas, and T-cell clones are also observed in patients with illnesses not related to cancer, the authors noted. Recently, targeted next-generation sequencing has been used to help improve diagnosis of T-cell lymphomas.
To compare the two methods, t-NGS and PCR, the authors took 107 formalin-fixed, paraffin-embedded samples, all of which had a possible diagnosis of noncutaneous T-cell lymphoma on histopathological examination.
The samples were divided into a retrospective test cohort (57 samples) and a prospective validation cohort (50 samples). The samples were assigned to the cohorts depending on when they were collected: The retrospective test cohort comprised the older samples collected from January 2018 to March 2020, and the prospective validation cohort comprised the newer samples collected from March 2020 to December 2020.
T-cell lymphoma diagnosis was confirmed in 44/57 (77.2%) of the cases included in the test cohort and 38/50 (76.0%) of the cases in the validation cohort, providing a gold standard baseline.
Finally, all the samples were assessed with both PCR and t-NGS using a panel of 69 genes involved in lymphoma growth and development. The results were broken down in terms of sensitivity (proportion of true positives correctly identified by the diagnostic test), specificity (proportion of the true negatives correctly identified), and accuracy (proportion of true results, whether positive or negative).
t-NGS vs. PCR in test and validation cohorts
Sensitivity (%)
Specificity (%)
Accuracy (%)
Test (N = 57)
PCR
95.1
42
83
t-NGS
95.5
100
96.5
Validation (N = 50)
PCR
95
45.5
83.3
t-NGS
97.4
100
98
The results showed that t-NGS exhibited better diagnostic performance than PCR in all categories (sensitivity, specificity, and accuracy) in both the retrospective test cohort and the prospective validation cohort.
The results were particularly striking in terms of specificity. Whereas t-NGS had a specificity of 100% in both cohorts, PCR had scores of just 41.7% in the retrospective test cohort and 45.5% in the prospective validation cohort.
This reflects the major problems with PCR-based TCR clonality testing identified by the authors, namely that it "displays low specificity and requires high-quality DNA." In this study, DNA quality had degraded to the point where it was unsuitable to amplify TCR genes in six of 107 samples (5.6%), rendering PCR diagnosis impossible, according to the authors.
However, t-NGS was able to provide a reliable basis for T-cell lymphoma diagnosis in these samples, Syrykh et al noted.
"The design of a single t-NGS test encompassing both clonal rearrangements of TCR genes and mutational status of target genes should represent an attractive alternative to conventional multiplex PCR in the near future," the authors concluded.