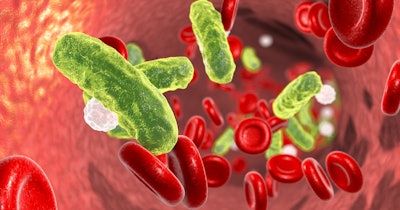 Investigators will present a poster at the 33rd European Congress of Clinical Microbiology & Infectious Diseases (ECCMID) on April 16 in Copenhagen, Denmark, that evaluates the use of SeptiCyte Rapid as a test to determine sepsis status in patients admitted to the intensive care unit (ICU), Immunexpress, the test developer, said Wednesday.
SeptiCyte Rapid is a sample-to-answer, cartridge-based, host-response molecular test for sepsis that uses reverse transcription polymerase chain reaction (RT-PCR) to quantify the relative expression levels of host-response genes isolated from whole blood.
The study evaluated 143 adult patients admitted to the ICU who were classified as indeterminate by a three-member physician panel, Immunexpress said.
A chart review using retrospective physician diagnosis was used to classify patients as having sepsis, systemic inflammatory response syndrome (SIRS), or an indeterminate result.
Patients were selected from a retrospective and prospective clinical trial involving critically-ill adult patients admitted to the ICU with a suspicion of sepsis. Indeterminate cases occurred when all panelists could not reach a consensus on whether the patient had SIRS or sepsis. Indeterminate results were reviewed again using SeptiCyte Rapid. For patients initially classified as indeterminate and then reassessed, the test significantly differentiated between SIRS and sepsis, Immunexpress said.
The poster will be published in the European Society of Clinical Microbiology and Infectious Diseases (ESCMID) e-library.
Immunexpress obtained U.S. Food and Drug Administration (FDA) 510(k) clearance for the SeptiCyte Rapid test, running on the sample-to-answer Biocartis Idylla molecular testing platform, in 2021.