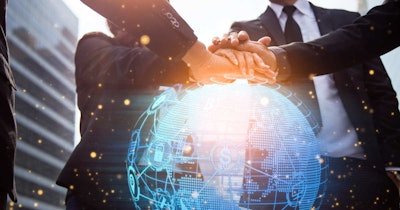 QuantuMDx on Wednesday announced that it has signed a five-year distribution agreement with A. Menarini Diagnostics for QuantuMDx's Q-POC platform and COVID-19 assays, allowing distribution in the U.K. and France.
Menarini will market, sell, and service the Q-POC platform as well as QuantuMDx's SARS-CoV-2 assay and SARS-CoV-2/Flu A/B/RSV Respiratory Panel test, QuantuMDx said. While the agreement covers the U.K. and France, there are plans to expand to other markets, the company added.
"The agreement will allow us to further accelerate commercial sales of Q-POC, bringing our point-of-need multiplex molecular diagnostics platform to clinical and nonclinical settings in a host of new markets," Jonathan O'Halloran, CEO of QuantuMDx, said in a statement.
Q-POC is a rapid, portable, multiplex polymerase chain reaction (PCR) device. Both it and the SARS-CoV-2 multiplex detection assay are CE-IVD marked for use within the EU and the U.K., QuantuMDx said.