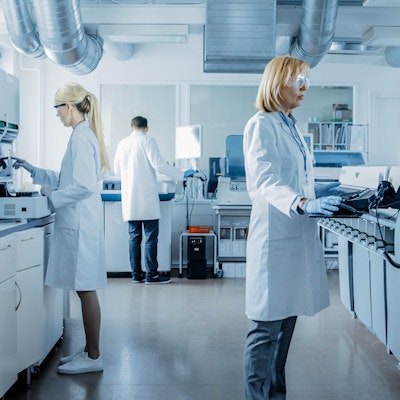 The Association for Molecular Pathology (AMP) held its virtual event November 15-19, and despite the format change (the organization had planned an in-person Philadelphia meeting), the top molecular pathology meeting in the nation presented detailed webinars and on-demand video events largely focused on the scourge of cancer.
Seminars at AMP 2021 focused on technologies and techniques to help detect and profile tumors, with special emphasis on hard-to-detect cancer cells that remain in patients after treatment.
In 2020, there were an estimated 1.8 million new cancer cases diagnosed and 606,520 cancer deaths in the U.S., according to cancer.org. Healthcare systems worldwide employ screening tests, but there is concern that cancer tests missed during the COVID-19 pandemic will presage an increase in cancer cases.
This phenomenon of increased cancer cases as a result of missed screenings and procedures has been dubbed the "COVID cancer effect" and was recently described in Scientific American. Due to this, missed screenings might result in 5,000 additional deaths in breast cancer alone over the next decade, according to a study cited in the article.
Business-wise, molecular cancer blood-based tests are expected to grow to nearly 1.5 billion in revenues, according to Kalorama Information's "World Market for Molecular Diagnostics, 10th Edition" report.
Molecular systems target MRD
A particular focus is bringing molecular systems to bear in the detection of minimal residual disease (MRD), which can only be meaningfully detected by the type of advanced systems offered by the vendors that exhibit at AMP. The MRD highlights included the following:
ClonoSEQ sponsored an on-demand seminar on utilizing its ClonoSEQ next-generation sequencing (NGS) Assay to detect and track MRD. A recent chronic lymphocytic leukemia patient study found that the U-MRD ClonoSEQ assay significantly predicted progression-free survival.
Beijing-based Genetron announced the release of two research results from its Seq-MRD and FusionScan Plus product studies. The company's Seq-MRD scans for residual cancer cells through high-throughput sequencing of immunoglobulin gene rearrangements and MRD in B-lymphoid malignancies. The company said the two studies verified the high sensitivity and specificity of the two products.
Improved tumor profiling and therapy selection
Meanwhile, Illumina previewed its in-development TruSight Oncology Comprehensive test. Illumina executives demonstrated the test, which uses both DNA and RNA from tumor samples. TruSight identifies small DNA variants, fusions, and splice variants as well as key immune-oncology biomarkers in a comprehensive test. Illumina identifies its TruSight test as a distributable, comprehensive genomic profiling (CGP) solution, with a sample-to-answer workflow for laboratories in Europe.
In 2018, there were an estimated 61,698 people with chronic myeloid leukemia (CML) in the U.S., according to the U.S. National Institutes of Health. Danaher-owned molecular diagnostic company Cepheid presented an on-demand webinar on the importance of rapid, accurate, and reproducible molecular results for CML monitoring.
Even though advances in treatment and care have transformed CML into a manageable disease, several significant challenges remain in monitoring therapeutic responses and disease progression, according to Cepheid. The company's webinar also discussed the use of Tyrosine kinase inhibitors and their resistance, current CML guidelines, and the clinical impact of different assays.
Roche highlighted the performance of its Avenio Tumor Tissue CGP Kit, an NGS-based, research-use-only (RUO) test; it is designed to match the FoundationOne CDx test, Roche said.
Additionally, Roche touted its test as an "end-to-end in-house solution" to profile 324 genes associated with solid tumors across multiple cancer types and shared results from five laboratory sites with positive outcomes using the test.
Changing up technology approaches: Spatial, single-cell, gene variants
As several of the video presentations made clear, cancer detection requires a change-up in approaches and current methods have limitations.
"Bulk sequencing misses the rare events and underlying genetic diversity across cell populations," claimed south-San Francisco-based MissionBio. "To improve patient stratification, therapy selection, and disease monitoring, we need insights into clonal architecture, mutation co-occurrence, and immunophenotype within every single cell."
Mission Bio's answer: Single-cell DNA and multi-omics analyses enable the simultaneous detection of mutation profiles and immunophenotypes in single cells, so labs can stratify patients more precisely, signal resistance as it begins, and predict relapse.
Asuragen focused on improving copy number quantification with a more specific count of types of gene variants. Its RUO AmplideX PCR/CE SMN1/2 test quantifies SMN1/SMN2 copy number and detects additional variants in under four hours, Asuragen said.
NanoString discussed bringing its spatial biomarker assays one step closer to routine clinical usage in an on-demand webinar focused on the company's GeoMx Digital Spatial Profiler.
Its panels enable highly multiplexed quantification of protein and phospho-protein targets relevant to the selection of cancer therapeutics, including intracellular signaling and immune biomarkers, according to the company.
The company has developed standard controls using formalin-fixed, paraffin-embedded cancer cell lines treated with drugs or growth factors, arranged in a tissue microarray. These controls are being used in an ongoing collaboration between its laboratories and Mayo Clinic Laboratories to evaluate the product, NanoString said.
AMP awards
In addition to showcasing technologies and study results, awards were given, including the following:
The Award for Excellence in Molecular Diagnostics was given to Nobel Laureate in Chemistry Jennifer Doudna, PhD, of the University of California, Berkeley in recognition of her pioneering work in molecular and cell biology.
The Jeffrey A. Kant Leadership Award was given to Dr. Charles Hill, PhD, of Emory University in Atlanta for his work as an advocate for the globalization of the AMP community.
The Meritorious Service Award was given to Dr. Marina Nikiforova of the University of Pittsburgh Medical Center for her "exceptional dedication ... to provide invaluable service to AMP and its membership," according to an AMP press release.
The association plans an in-person meeting in October 2022 in Phoenix.
Bruce Carlson is the publisher of Kalorama Information, part of Science and Medicine Group.
Disclosure: LabPulse.com is a sister company of Kalorama Information.