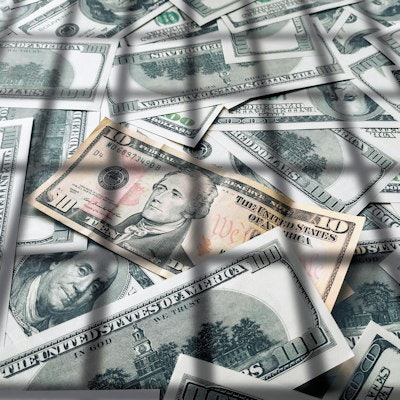 The president of Arrayit has been convicted in a scheme involving illegal kickbacks and false claims for COVID-19 and allergy testing.
Mark Schena participated in a scheme to mislead investors, commit healthcare fraud, and pay illegal kickbacks in connection with the submission of more than $77 million in false and fraudulent claims for such testing, the U.S. Department of Veterans Affairs (VA), Office of Inspector General (OIG), announced Thursday.
In an eerie echo of claims made by executives of Theranos, which is now defunct, the VA added that Schena defrauded Arrayit investors by claiming that he invented revolutionary technology to test for virtually any disease using a few drops of blood; he also claimed to be the father of microarray technology and that he had been shortlisted for a Nobel Prize.
"Schena falsely represented to investors that Arrayit could be valued at $4.5 billion based on purported revenues of $80 million per year, concealing that the company was on the verge of bankruptcy," the VA said in a statement, adding, "Schena also orchestrated an illegal kickback and healthcare fraud scheme that involved submitting fraudulent claims to Medicare and private insurance for unnecessary allergy testing."
Arrayit ran allergy screening tests on every patient for 120 different allergens, regardless of medical necessity, the VA said, adding, "To obtain patient blood specimens, Schena paid kickbacks to marketers in violation of the Eliminating Kickbacks in Recovery Act and orchestrated a deceptive marketing plan that falsely claimed that the Arrayit test was highly accurate in diagnosing allergies, when it was not, in fact, a diagnostic test."
Arrayit billed more per patient to Medicare for blood-based allergy testing than any other laboratory in the U.S. and billed some commercial insurers more than $10,000 per test.
Among other false claims, Schena said Dr. Anthony Fauci, director of the National Institute of Allergy and Infectious Diseases (NIAID) in the U.S. National Institutes of Health had mandated testing for COVID-19 and allergies at the same time. Schena claimed that Dr. Fauci and other officials required that patients receiving the Arrayit COVID-19 test also be tested for allergies.
Although the U.S. Food and Drug Administration had informed him that the Arrayit test was not accurate enough to receive an Emergency Use Authorization, Schena claimed that the Arrayit COVID-19 test was more accurate than a PCR test for diagnosing COVID-19 infections.
The VA OIG, Federal Bureau of Investigation (FBI), Department of Health and Human Services OIG, Defense Criminal Investigative Service, and U.S. Postal Inspection Service conducted the investigation. Schena is currently awaiting sentencing.
Fraud and kickbacks
There have been numerous reports of fraud and kickbacks related to in vitro diagnostic testing in 2022.
In August, the Department of Justice (DOJ) announced it had charged a Florida lab owner with at least $53.3 million in healthcare fraud associated with genetic cancer screening tests.
In July, the DOJ said that Metric Lab Services, Metric Management Services, and Spectrum Diagnostic Labs precipitated the submission of false Medicare claims by paying kickbacks in return for genetic testing samples. In the same month, the DOJ announced that Inform Diagnostics, formerly known as Miraca Life Sciences, had agreed to pay $16 million to resolve allegations that it submitted false claims for payment to Medicare and other federal healthcare programs.
And in February, the founders of three lab companies were among 10 people indicted in Texas for a $300 million healthcare fraud involving healthcare kickbacks for medically unnecessary lab tests.