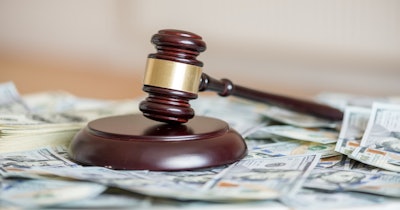 10x Genomics has been awarded more than $31 million in damages by a jury in the U.S. District Court for the District of Delaware in its patent infringement lawsuit against NanoString Technologies.
The jury found that NanoString's GeoMx Digital Spatial Profiler infringed on seven patents held by 10x and found the infringement to be willful. The jury also determined that the patents, which were exclusively licensed from Prognosys Biosciences, were valid.
In a statement, 10x says that it plans to seek royalties from GeoMx product sales, and 10x plans to seek royalties on GeoMx product sales after October 13, 2023, prejudgment and post-judgment interest, as well as treble damages and attorney's fees. The firm also says that it will seek an injunction against NanoString prohibiting the company from "making, using, selling and offering for sale the GeoMx products in the U.S."
Additionally, 10x has a separate suit pending against NanoString in the U.S. District Court for the District of Delaware alleging that NanoString's CosMx Spatial Molecular Imager and associated products and services infringe on additional 10x patents.
This is the third ruling against NanoString in patent infringement suits brought by 10x this year. The European Unified Patent Court and the Munich Regional Court each ruled that NanoString had infringed 10x Genomics patents and issued injunctions on NanoString's CosMx Spatial Molecular Imager instruments and CosMx reagents for RNA detection.
Following the Delaware verdict, shares of the Seattle-based NanoString fell nearly 50% on Monday, prompting the company to withdraw its full-year 2023 and fourth quarter financial guidance pending a review of the litigation's effect on its business.
"We respectfully disagree with the jury's verdict, which we will seek to have overturned or amended in our post-trial motions and then expect to appeal to the U.S. Court of Appeals for the Federal Circuit, a court that specializes in patent disputes. We remain resolute in our belief that the patents that 10x Genomics has asserted describe a fundamentally different scientific method than that which is used for our GeoMx system. Simply put, we believe the asserted patents are invalid, that we don't infringe these patents, and that we should be vindicated on appeal," Brad Gray, president and CEO of NanoString Technologies, said in a statement.