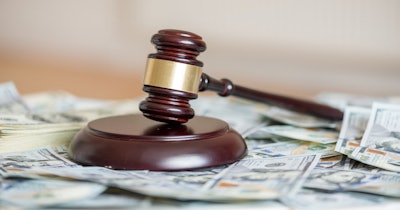 A Woodstock, GA-based physician and his associated businesses have agreed to pay $625,000 to resolve allegations that they violated the False Claims Act, the U.S. Department of Justice (DOJ) said Tuesday.
The defendants allegedly submitted improper claims to Medicare and Tricare insurance programs for evaluation and management services as well as medically unnecessary urine drug screening tests, said the DOJ's U.S. Attorney's Office, Northern District of Georgia.
Tricare is a healthcare insurance program for uniformed service members, retirees, and their families.
The civil settlement resolves a lawsuit filed in the U.S. District Court for the Northern District of Georgia against Dr. James Ellner, his practice Georgia Pain Management, and an ambulatory surgical center, Samson Pain Center.
A former employee of Georgia Pain filed the lawsuit under the whistleblower provisions of the False Claims Act, the U.S. Attorney's Office said, adding that the whistleblower will receive $118,000 from the settlement.
"When providers submit improper claims, they threaten the integrity of taxpayer-funded healthcare programs and take those valuable resources away from their intended recipients," Tamala Miles, special agent in charge at the Department of Health and Human Services, Office of Inspector General (HHS-OIG), said in a statement.
The DOJ alleged that between May 1, 2015, and December 31, 2019, Ellner and Georgia Pain submitted false claims to the Medicare and Tricare programs for evaluation and management services that were not reimbursable under federal healthcare programs. It further alleged that Ellner and Georgia Pain entered an arrangement that violated the Anti-Kickback Statute. The arrangement involved a reference laboratory that paid the salary of an individual who was a cost-free employee of Georgia Pain. In exchange, Ellner allegedly referred urine drug tests to the laboratory, many of which were medically unnecessary, the DOJ said.