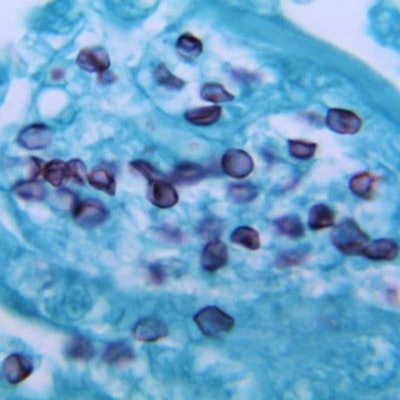 As the prevalence of opportunistic infections from fungal pathogens increases, so, too, does the need for clinicians to recognize these infections and then use diagnostic molecular tests to identify pathogens. However, current gold standard polymerase chain reaction (PCR) tests show a wide range in variation between assays.
Clinicians from the U.S. and Europe discussed molecular diagnostic approaches to fungal infections and the research work done so far to standardize assays during a series of talks at Infectious Disease Week (IDWeek) meeting, held virtually from September 29 to October 3.
Pneumocystis pneumonia
Pneumocystis pneumonia (PCP) caused by a unicellular fungus Pneumocystis jirovecii has been increasing, and mortality rates remain high. But standardization of PCP diagnostic molecular testing has remained elusive, according to a presentation by Dr. Marjorie Bateman of Brigham and Women's Hospital Division of Pulmonary and Critical Care Medicine.
PCP, uncommon in the U.S. prior to the 1980's HIV/AIDS epidemic, became an AIDS-defining illness; however, cases dropped as these patients went on antiviral medication. Today, HIV patients with PCP now are either not aware of their HIV status or are not on antiretroviral therapy. PCP also occurs in non-HIV patients with other immunocompromised etiologies.
"There have been several recent studies showing that cases of PCP and patients without HIV have actually been increasing," Bateman said.
Over time, PCP patients without HIV have had constant mortality rates, she noted.
"This is also notable because patients without HIV have higher mortality rates in hospital than those with HIV," she said. "The reasons for this are presumed to be related to delayed diagnosis and delayed initiation of treatment."
Mucormycosis
The second speaker, Dr. Alexandre Alanio, PhD, addressed the advances and challenges in the molecular diagnosis of mucormycosis. Alanio, an expert in medical mycology and medical parasitology, is affiliated with Saint-Louis Hospital in Paris and the Institut Pasteur, among other organizations.
Mucormycosis, caused by fungal species belonging to mucorales genera, is a rare but deadly infection with a high mortality rate. In June 2021, the condition made news when some COVID-19 patients in India were co-infected with the fungus, as reported by the New York Times.
Lack of technique standardization
Both Bateman and Alanio decried the current lack of standardization in diagnostic molecular testing and described the progress being made toward that goal.
"PCR has been recommended as the new gold standard diagnostic method," Bateman said. "However, the FDA actually has not approved any particular PCR assay because of the wide range in variation between assays."
Variation can be seen throughout the PCR diagnostic methodology, noted Batemen.
"Centrifugation, extraction methods, PCR methods, target genes, controls, not to mention the actual sample concentrations, primer concentrations, DNA polymerases used ... quantification methods after the fact -- there's a lot that remains to be standardized" she said.
Bateman noted that the science remains murky on how geographic variations of organisms affect molecular tests, possibly leading to false negatives.
"Something that has not been well clarified in the literature today is how geographic variations in [P. jirovecii] around the world can actually impact molecular testing," she said. "Using PCR on more variable genes may lead to false negatives. If you know the gene is variable in the specific area being tested ... it will be important to test more molecular methods in different populations and see if ... different gene targets actually impact sensitivity and specificity of assays, such as PCR across populations."
Toward PCR standardization
In 2006, a research group called the European Aspergillus PCR Initiative (EAPCRI) was founded to tackle the issue of PCR standardization for Aspergillus, a fungus that causes infections in the lungs and other organs.
EAPCRI developed a standard for Aspergillus PCR methodology and validated it in clinical trials. This success led to the Fungal PCR testing initiative (FPCRI), which aims to evaluate and standardize PCR testing of the mucorales species, pneumocystis, and other fungal infections.
In a 2020 paper, the FPCRI evaluated in-house and commercial P. jirovecii quantitative PCR (qPCR) assays to make progress toward diagnostic standardization. The study found a large variation between assays.
"They actually found that there was almost 10,000-fold variation between assays when looking at some standardized known positive or negative samples, which is fairly significant," Bateman noted. "They found that differences were more limited, when they were looking at MTLSU as a target, when they were looking at RT-PCR, and when they were looking at whole nucleic acid."
A second FPCRI study, co-authored by Alanio and discussed in his talk, evaluated the viability of assays for testing serum specimens for mucormycosis infection.
Participants in the mucormycosis study included 12 laboratories from French university hospitals and 11 laboratories affiliated with the FPCRI. Each lab was sent a panel along with a form for collecting the lab's technical information, including the DNA extraction method used, the sample volume used, as well as the DNA elution volume, qPCR method, qPCR platform, and qPCR reagents used.
"Something very important from this publication is the fact that they analyzed what kind of technical process led to the best results," Alanio said.
The protocol used at laboratory nine achieved the highest accuracy, Alanio noted.
"This specific center used this specific protocol using the Roche automated large-volume extraction with 550 μL elution on the Rotorgene platform with specific reagents using applied kits -- with something important -- which is a very high input of DNA: 9 μL in 25 μL of the qPCR. These are quite technical things, but it illustrates ... the way you are processing the PCR is influencing, obviously, the performances you have in the end in terms of detection."
What's next
Bateman provided a need-to-do list, which included the need for assays to be compared directly so that testing can be standardized and the need for diagnostics method studies to report standardized outcomes.
But clinician education is key to diagnosing opportunistic infections from fungal pathogens.
"Ultimately, we need to make sure that we're educating clinicians on how to use these molecular methods," she concluded.