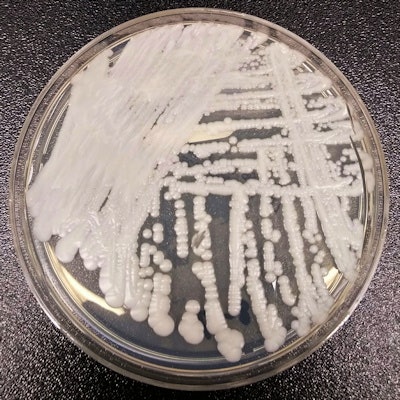 Clinical laboratories are being advised by the U.S. Centers for Disease Control and Prevention (CDC) on how to handle a relatively new fungal infection that is detectable only with complex tests such as mass spectrometry, sequencing, and novel polymerase chain reaction (PCR) assays.
In the past few years, more than 600 cases of an emerging fungal infection called Candida auris have been identified in 12 U.S. states, according to the CDC.
The agency has warned that the infection is often multidrug resistant.
Those with compromised immune systems are most vulnerable: As many as half of these patients may die after contracting the infection, so isolation and early treatment are key.
The most common symptoms of invasive C. auris infection are fever and chills that do not improve after antibiotic treatment for a suspected bacterial infection, the CDC noted.
Cases have typically been reported in hospitals and long-term care facilities, and while healthy people do not often get the fungus, the agency is warning all staff members in these settings to be vigilant about washing their hands after contact with patients.
The fungal infection is tricky to diagnose, which creates an opportunity for mass spectrometry-based in vitro diagnostic (IVD) systems to play a role in detection during the outbreak.
Diagnostics based on matrix-assisted laser desorption/ionization-time of flight (MALDI-TOF) can differentiate C. auris from other Candida species; however, not all of the reference databases included in these devices allow for detection, according to the CDC's guidance for health professionals.
The CDC advised that systems from Bruker and bioMérieux provide detective value, but the agency warned that libraries must be up to date, and it offered its own MicrobeNet library for use by laboratories with suspected cases of infection.
Molecular methods based on sequencing the D1-D2 region of the 28S ribosomal DNA (rDNA) or the internal transcribed spacer (ITS) of rDNA can also identify C. auris. Other products, such as PCR, can identify fungal infection absent a specific C. auris designation.
T2 Biosystems' T2Candida panel can identify serious fungal pathogens directly from a blood sample. The test, which has received the CE Mark and been cleared by the U.S. Food and Drug Administration (FDA), runs on a desktop analyzer based on magnetic resonance imaging and provides results within five hours.
Thermo Fisher's RapID Yeast Plus system is a qualitative micromethod that uses conventional and chromogenic substrates to identify yeast and related organisms isolated from human clinical specimens. The company did not specify the identification of C. auris at the time of reporting, but the system can flag Candida infection, which can suggest further testing.
The CDC also encouraged laboratories to characterize isolates further when C. auris is suspected.
Suspected isolates may also be sent to the CDC's Antibiotic Resistance Laboratory Network for identification and antifungal susceptibility testing. This testing is performed free of charge and may require coordination through the state healthcare-associated infection (HAI) program. Isolates should be submitted on slants shipped at room temperature. Mycology-specific media are not necessary if the laboratory does not have them, the CDC advised.
Bruce Carlson is the publisher of Kalorama Information, part of Science and Medicine Group. More information on infectious disease testing is available in Kalorama's "Infectious Disease Diagnostic Testing: World Market Analysis" report.
Disclosure: LabPulse.com is a sister company of Kalorama Information.