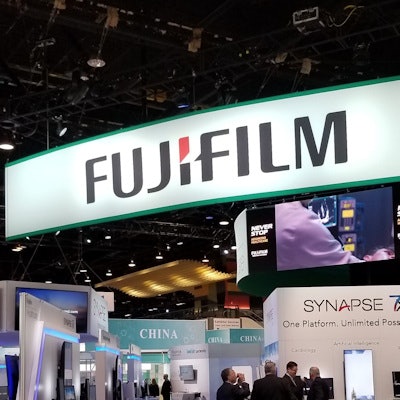 Fresh off its acquisition of Hitachi's medical imaging business, Japanese industrial giant Fujifilm on July 1 rebranded its healthcare subsidiaries in the U.S. and Europe to reflect the newly integrated company. The deal exemplifies Fujifilm's plan to make healthcare its primary business.
The company's European business will be known as Fujifilm Healthcare Europe, while the U.S. unit has been renamed as Fujifilm Healthcare Americas. The new business will offer a complete line of medical products representing both Fujifilm and Hitachi portfolios.
The launch marks the culmination of Fujifilm's shift from legacy businesses in photography and document management and toward a stronger emphasis on healthcare, according to Toshihisa "Toshi" Iida, president and managing director of the company in Europe. Fujifilm plans to generate 32% of its overall revenues from healthcare by 2023, up from 25% in 2020, he said.
Prior to the Hitachi deal, Fujifilm's activities in healthcare included digital x-ray, in which the company was a pioneer in computed radiography, as well as enterprise image management with the company's Synapse 3D line of software. Other business lines included women's imaging, endoscopy, lab diagnostics, and artificial intelligence software.
The Hitachi deal complements these activities well and elevates Fujifilm to the level of a one-stop provider of medical technology, according to Iida. The Hitachi business brings to the table big-iron scanners like CT and MRI – segments in which Fujifilm has not had a strong presence, as well as technology like ultrasound that can be integrated with Fujifilm's existing products in women's imaging, such as mammography systems.
The firms announced the acquisition in 2019 in a deal that at the time was valued at 179 billion yen ($1.6 billion U.S.). The COVID-19 pandemic delayed the completion of the deal, but it was ultimately finalized in March 2021.
The July 1 press conference marked a coming out party of sorts for the new business. Iida provided an overview of the importance of the integrated product line, as well as the breadth of the company's offerings in other health and life sciences segments like diagnostics -- a range of offerings matched by few other companies. Individual Fujifilm executives then provided updates on how the integration would benefit their individual businesses.
In his presentation, Iida explained the rationale behind Fujifilm's decision to place a big bet on healthcare. Global demand for photographic film peaked in 2001 and has been in decline since then at a rate of about 20%-30% a year, he said.
"Fujifilm faced a crisis of losing its core business," Iida said.
Fujifilm began a process to innovate its way out of the crisis, he said, with a particular focus on healthcare and life sciences. In the past three years, Fujifilm has invested over $5.92 billion in healthcare.
As a result, the Fujifilm of today is a company that's far different from the one 20 years ago. In fiscal 2001, imaging -- which included photo film, digital cameras, and photo printing, was the company's largest business segment, making up 54% of sales. Medical systems only generated about 12% of the company's overall revenues of 1,440 billion yen ($12.9 billion or 10.9 billion euros).
Now, in fiscal 2021, nonmedical imaging makes up just 13% of the firm's revenues, with document solutions contributing 39% and healthcare and material solutions producing 48% of sales. Fujifilm's overall revenues have grown to 2,193 billion yen ($19.7 billion)
And Fuji's offerings now run the gamut from prevention to diagnosis to treatment, Iida said. The company's activities also range into life sciences -- its Fujifilm Diosynth Biotechnologies business is currently active in developing five different vaccines, he said, and Fujifilm this week announced an $850 million investment to expand its contract manufacturing business and meet growing demand for biologics and gene therapies.
As the world begins to emerge from the COVID-19 pandemic, Iida said that Fujifilm -- with its broadly integrated product portfolio, from life sciences to treatment at the patient's bedside -- is uniquely positioned to grow.
"By integrating Hitachi diagnostic imaging into Fujifilm, we will reinforce ourselves as a key partner to the medical community, and we offer a one-stop, total solution through our strategy of expansion of our product portfolio," Iida said. "Fujifilm is now a unique, total healthcare company."