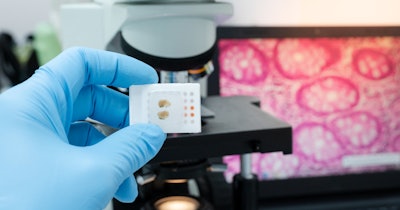 Fujifilm on Monday announced that it has entered into an asset purchase agreement to acquire Dynamyx, the digital pathology business of Inspirata.
Completion of the transaction is subject to closing conditions and scheduled for early 2023. Terms of the agreement have not been disclosed.
Digital pathology platform Dynamyx uses whole-slide images from multiple scanning vendors, providing faster patient results, centralized imaging records, and enterprise access to images for clinicians, according to Fujifilm, which added that Dynamyx is installed in medical facilities that handle large volumes of pathological images across multiple lab locations, with a large partnership network.
Future releases of Dynamyx will also support pharmaceutical and contract research organizations with toxicity testing data management for drug development, Fujifilm said.
The addition of digital pathology will enable Fujifilm's Synapse Enterprise Imaging to integrate pathology images and data into a healthcare organization's electronic health record system, thus streamlining care for oncology patients and providers.
Fujifilm added that the acquisition signals its entry into the digital pathology market. At present, 85% of U.S., 86% of European, and 90% of Asian healthcare organizations are still running on analog.