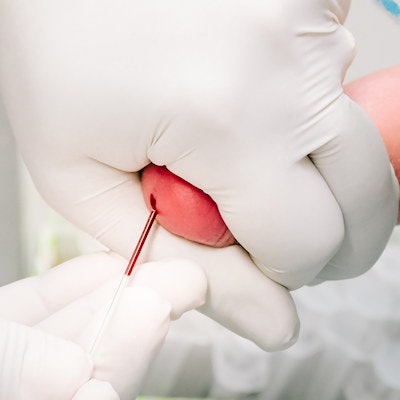 A diagnostic testing platform designed specifically for infants that requires a smaller blood sample beat products from two other companies to win the Disruptive Technology Award at the American Association for Clinical Chemistry (AACC) virtual annual meeting. The Finder platform from Baebies operates on a sample of just 50 µmL of blood.
In the third annual edition of the Disruptive Technology Award competition, Baebies won the award for Finder, a near-patient testing platform featuring a toaster-sized instrument and disposable cartridge. Powered by digital microfluidics technology, Baebies' Finder tests for diseases using low sample volumes with a turnaround time of approximately 15 minutes after sample introduction.
The other two finalists in the competition included a blood test from Alcediag of France that helps differentiate depression from bipolar disorder with an accuracy of 87%, and a platform technology from Sherlock Biosciences of Cambridge, MA, that amplifies genetic sequences and programs a CRISPR molecule to detect the presence of a specific genetic signature in a sample. Already, Sherlock Biosciences has received an emergency use authorization (EUA) from the U.S. Food and Drug Administration for its Sherlock CRISPR SARS-CoV-2 kit for the detection of the virus that causes COVID-19, providing results in approximately one hour.
A path toward success
The AACC's Disruptive Technology Award is designed to recognize innovative technologies for diagnostic testing that have the potential to improve patient care. Baebies, Alcediag, and Sherlock Biosciences were selected as finalists from among a host of submissions solicited by the association for the award.
The competition has a reputation among diagnostics manufacturers as a potential harbinger of future success. Last year's contest winner, California startup Inflammatix, earlier this year announced a $32 million financing round. The funding will be used to help develop the company's initial tests to help tackle antibiotic resistance and sepsis by reading the patient's host-immune response to infection.
The winner of the 2020 award is intended to address a clinical challenge: Nearly 10% of all babies born are admitted to the neonatal intensive care unit, where they must be evaluated using tests intended for adults that require large sample volumes. In his AACC presentation, Vamsee Pamula, PhD, co-founder and president of Baebies, explained how the growth-stage company is addressing unmet needs in neonatal diagnostics with panels of tests that use only low sample volumes.
Finder's digital microfluidics technology programmably manipulates separate droplets of liquid by electrically controlling surface tension -- electrowetting -- to perform bioassays. Digital microfluidics allows for rapid precision handling of discrete droplets on Finder's disposable cartridge, which is completely self-contained with all reagents. The digital microfluidic technology minimizes sample and reagent volumes.
Finder was developed specifically to meet the need for testing children using low blood sample volumes. The platform has the potential to be used in hospital nurseries, laboratories, neonatal intensive care units, and birthing centers. It features a small footprint, 8 inches wide, with a tablet for the user interface. Only one user step is needed to load a sample. All necessary reagents reside onboard the cartridge, including those for sample preparation.
Finder received the CE Mark in December 2019 as an IVD device as a test for glucose-6-phosphate dehydrogenase, using a single drop of whole blood -- 50 µL. Glucose-6-phosphate dehydrogenase deficiency is a genetic disorder. The test is commercially available in Europe and other countries that recognize the CE Mark. Finder is not currently available for sale in the U.S.
And, because of a need for rapid diagnostics for SARS-CoV-2, a test for detecting COVID-19 is being developed on Finder 1.5, a newer version, to perform rapid reverse transcription polymerase chain reaction (RT-PCR) to generate results in as little as 14 minutes, according to the company.
Sherlock Biosciences and Alcediag
Executives from Sherlock Biosciences and Alcediag also detailed their novel technologies at AACC. Rahul Dhanda, Sherlock's co-founder, president and CEO, explained how, using CRISPR (clustered regularly interspaced short palindromic repeats), the Sherlock platform amplifies genetic sequences and programs a CRISPR molecule to detect the presence of a specific genetic signature in a sample. When it finds a signature, a CRISPR enzyme activates signaling molecules for detection. This signal can be adapted to work on a simple paper strip test, for example, as a home test.
Marianne Morini, business development manager at Alcediag, explained the company's efforts in developing RNA-editing based biomarkers for determining mental health. The company claims its Edit-B is the first blood test able to make a high-performance differential diagnosis of unipolar depression and bipolar disorder with high accuracy.
The test provides biological, objective, and rapidly available data towards a diagnosis of bipolar disorder and differentiates patients with bipolar disorder from depressed patients. Edit-B is still under development and is available for research use only.