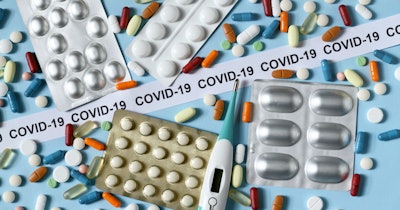 Researchers have generated what they say is "the first empirical evidence" that the presence of SARS-CoV-2 on people's hands and surfaces "contributes significantly to the spread of COVID-19."
The prospective study, details of which were published last week in the Lancet Microbe, recruited 620 contacts of people infected with SARS-CoV-2 from August 2020 to March 2021. The researchers tested the hands of the contacts and of the original COVID-19 cases, as well as frequently touched surfaces in communal areas. Hand and surface testing results were correlated to data on whether contacts caught COVID-19.
Through the comparison, the researchers believe that the detection of SARS-CoV-2 on the hands of the contacts and communal surfaces predicted the risk of infection.
However, as the paper notes, the study did not sample air in the households and as such its conclusions are limited. The paper states that transmission may "have been exclusively airborne and the presence of SARS-CoV-2 RNA on residents' hands and household surfaces might reflect bystander contamination by large respiratory droplets that might be generated alongside infectious aerosols that mediate transmission."
Multiple other studies have suggested that aerosol transmission is involved in the spread of SARS-CoV-2. An analysis of transmission on a cruise ship early in the pandemic found that "aerosol inhalation was likely the dominant contributor to COVID-19 transmission" and superspreading events suggest that airborne transmission is a key driver of the spread of the virus.
Indeed, in the absence of systematic air sampling, it is impossible to say how the virus spread to contacts.
Even so, the researchers argue that the study has implications for public health policy. In a statement, Ajit Lalvani, lead author of the study, said "the simple, easily applicable public health interventions and messaging underpinned by our evidence are a valuable, risk-free, and timely addition to the toolkit for living safely with COVID-19."
Lalvani, who is also director of the U.K. National Institute of Health and Care Research Health Protection Research Unit in Respiratory Infections, added that the "new understanding of the pathways of household transmission now enables us to prioritize simple measures to interrupt spread of the virus" and that the "data strongly suggest that ... decontamination of frequently touched surfaces could prevent transmission."
The claims are underpinned by the finding that the contacts of COVID-19 cases who had SARS-CoV-2 on their hands were 1.7 times more likely to get infected. Similarly, people who lived in properties with the virus present on frequently touched surfaces were 1.7 times more likely to test positive for COVID-19.