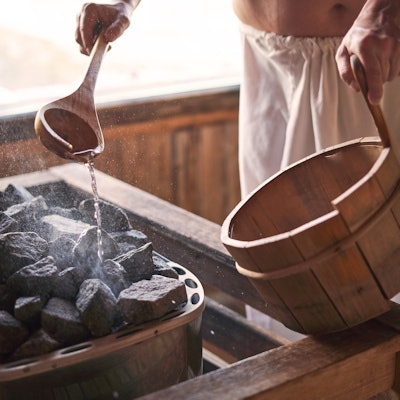 The transmission of SARS-CoV-2 among nine patients who used a bathhouse more than 400 miles north of Wuhan, China, has been confirmed via molecular testing and computed tomography (CT) scans, according to a research letter published March 30 in JAMA Network Open.
The findings are in contrast to the general assumption that transmission of the virus is undermined in humid, high-temperature environments, wrote a team led by Dr. Chao Luo, PhD, of Nanjing Medical University in Huai'an, China.
"Previous studies have demonstrated that the transmission rate of a virus is significantly weakened in an environment with high temperature and humidity," the group wrote. "However, judging from the results of this study, the transmissibility of SARS-CoV-2 showed no signs of weakening in [these] conditions."
Luo and colleagues shared a case study of a SARS-CoV-2 transmission event that occurred in a public bath center. The study included data from nine patients who had been to the same center and were treated at Huai'an No. 4 People's Hospital (median age, 35) between January 25 and February 10. SARS-CoV-2 infection was diagnosed via reverse transcription polymerase chain reaction (RT-PCR) assay. All patients also underwent CT exams, which showed ground-glass opacities in all nine. None required respiratory support over the course of their illnesses.
The roughly 3,000-sq-ft, men-only bathhouse included a swimming pool, showers, and a sauna. Its temperatures ranged from 77° F to 106° F, and the average humidity was 60%. The infected patient had traveled to Wuhan; he showered at the bathhouse on January 18 and developed a fever the next day. He was diagnosed with COVID-19 on January 25.
The eight other patients showered, used the sauna, or swam in the same center on January 19, 20, 23, 24, and 30. Most demonstrated symptoms such as fever, cough, headache, and chest congestion within six to nine days after their visits.
"A total of eight individuals [in addition to the first patient] who used or worked in the bath center experienced symptoms within six to nine days of their visit ... suggesting that SARS-CoV-2 could spread and cause infection in such an environment," the group wrote. "The transmission routes may also be respiratory droplets or contact, but our results suggest that the cluster transmission of SARS-CoV-2 can still arise in an environment with high temperature and humidity."
Although the study was limited by "a lack of detail regarding the transmission routes of the patients in the bath center," its findings are important, according to the authors.
"These results provide a potential epidemiological clue for this novel coronavirus," the team concluded.