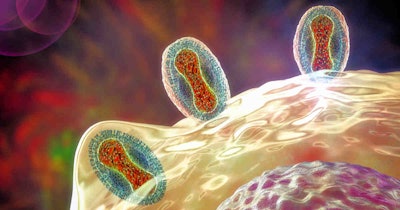 Thermo Fisher Scientific on Wednesday announced that the U.S. Food and Drug Administration (FDA) has granted Emergency Use Authorization (EUA) for its Applied Biosystems TaqPath Monkeypox/Orthopox Virus DNA Kit, a polymerase chain reaction (PCR) test to detect non-variola orthopoxviruses, including monkeypox virus, in approximately three-and-a-half hours.
The test is intended for the qualitative detection of DNA from monkeypox virus (clade I/II) and screening for non-variola orthopoxviruses in human lesion swab specimens from individuals suspected of monkeypox (mpox) infection by their healthcare provider.
The TaqPath Monkeypox/Orthopox Virus DNA Kit is also designed for identification of other non-variola orthopoxvirus DNA.
While positive results are indicative of the presence of DNA from monkeypox virus or other non-variola orthopoxvirus, clinicians must correlate PCR results with patient history and other diagnostic information to determine infection status, Thermo Fisher noted.
"Ensuring that all U.S. laboratories have access to monkeypox PCR testing is a critical part of the response to this public health emergency," Manoj Gandhi, senior medical director for genetic testing solutions at Thermo Fisher Scientific, said in a statement. "This helps expedite availability of results so that patients can receive the appropriate treatment quickly. Authorized testing also enables public health agencies to stay one step ahead of the virus by monitoring viral spread and addressing affected populations accordingly."