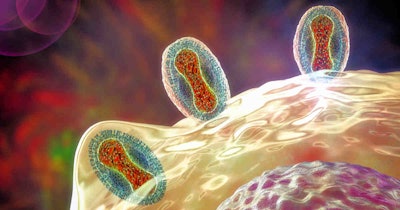 Researchers have identified a new, severe form of mpox that has a 15% mortality rate in people with advanced HIV disease and immunosuppression.
Analyses of cases in earlier outbreaks of mpox, the viral disease formerly known as monkeypox, and of a small number of patients infected in the current multi-country outbreak suggest that people with advanced HIV may suffer more severe infections. However, that hypothesis has remained untested, with the field lacking the evidence from a large global study needed to validate the link between advanced HIV and mpox outcomes.
Writing on Tuesday in the Lancet, an international group of clinicians presented their work to validate the link. The collaborators assessed 382 people with advanced HIV disease and mpox, including 27 of the 60 people reported to have died of mpox during the current multi-country outbreak.
The analysis revealed a very severe form of mpox. Patients with the severe form have widespread, large, necrotizing skin lesions, high rates of severe infections and, in some cases, unusual lung lesions. There is a 15% mortality rate in people with advanced HIV disease and immunosuppression. The 27 people who died had advanced HIV disease and immunosuppression. The researchers want the discovery of the new form of mpox to inform clinical practice and public health policy.
"When clinicians recognize necrotizing skin lesions and/or lung involvement, they should use a differentiated clinical pathway and an intensified approach. Also, health authorities should prioritize the vaccination of people living with HIV, particularly in countries with low levels of diagnosis or without universal free access to antiretroviral treatment," Oriol Mitjà, first author and associate professor at University Hospital Germans Trias i Pujol, said in a statement.
The researchers also called for routine HIV testing for all people diagnosed with mpox, noting that it has the potential to reduce deaths, and for authorities to update the list of AIDS-defining diseases. Currently, the Centers for Disease Control and Prevention (CDC) lists 14 serious and life-threatening infections that are associated with AIDS, the advanced form of HIV.
Clinicians use the list to guide their management of people who are at high risk of the 14 infections. By adding mpox to the list, the researchers believe that the CDC can help physicians protect immunocompromised people, support HIV testing, and prioritize at-risk patients for vaccination and treatment. Mpox would be the first new or emerging infection added to the list since 1993.