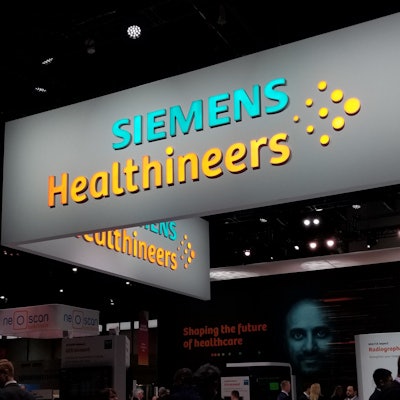 Siemens Healthineers saw revenue for the company's fiscal fourth quarter jump 19% after adjustment for currency changes. The increase was driven by 11% growth in the company's medical imaging business and a 22% spike in its diagnostics segment.
For the quarter (end-September 30), Siemens Healthineers posted sales of 5.164 billion euros ($5.966 billion), compared with 3.876 billion ($4.478 billion) euros in the fourth quarter of fiscal 2020. The increase was 33.2% on an actual basis, and up 14.4% after adjusting for currency effects and changes in the company's portfolio, such as its acquisition of radiation therapy company Varian.
The company's net income for the period was 466 million euros ($538 million), up 8% compared with 432 million euros ($499 million) in the same period the year before.
In Siemens' Imaging business, the segment recorded revenues of 2.757 billion euros ($3.185 billion), up 11.6% after currency adjustment compared with 2.477 billion euros ($2.861 billion) in the same period the year before, when the company's revenues were "challenged" by the COVID-19 pandemic. Double-digit growth was recorded in CT, ultrasound, and molecular imaging.
In its Diagnostics business, revenues were 1.278 billion ($1.476 billion), up 22.3% after currency adjustment compared with sales of 1.038 billion ($1.199 billion) in the same period the year before. Sales of rapid antigen tests generated 160 million euros ($185 million) in revenue in the quarter.
The company's Advanced Therapies business produced 499 million euros ($576 million), while the Varian business contributed 709 million ($819 million) in sales.