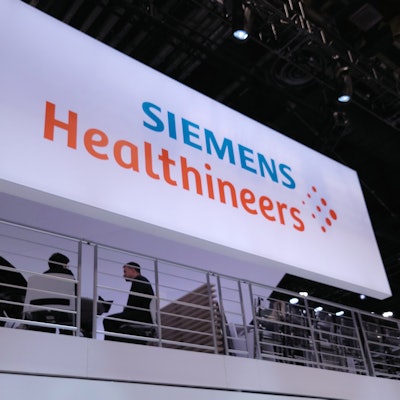 Siemens Healthineers appears to have been firing on all cylinders in the first quarter of its 2022 fiscal year. The company reported 19.7% growth in its diagnostics business after currency adjustment, while the company's medical imaging division reported 5.9% growth.
For the quarter (end-December 31), the company's Imaging business posted revenue of 2.525 billion euros ($2.893 billion), compared with revenues of 2.319 billion euros ($2.657 billion) in the corresponding quarter of 2021. The division's adjusted earnings before interest and taxes (EBIT) came in at 505 million euros ($579 million), compared with 542 million euros ($621 million) in the year-ago quarter.
The company said that it saw "significant" growth in its molecular imaging business, while its activities in CT and MRI saw "very strong" growth. On a regional basis, the Americas region grew "significantly," with strong growth in the Europe, Middle East, and Asia (EMEA) region. Revenue declined in the company's Asia and Australia region after it posted double-digital growth the year before.
Growth in the company's Diagnostics business was driven by increased demand for rapid COVID-19 antigen tests in Europe, and the approval of the company's rapid antigen tests in the U.S. The Diagnostics business posted revenue of 1.446 billion euros ($1.656 billion), up 19.7% after currency adjustment compared to revenues of 1.183 billion ($1.355 billion) in the year-ago quarter.
The group's adjusted EBIT for the quarter was 244 million euros ($279 million), compared with 137 million euros ($157 million) in the first quarter of fiscal 2021. The company said the Diagnostics division generated 329 million euros ($377 million) in sales from rapid COVID-19 antigen tests; excluding these products, growth in the division was 3.2%.
Prospects from the Diagnostics division are so bright that Siemens Healthineers said it was raising its financial outlook for the entire company for fiscal 2022. The company believes the division will generate 700 million euros ($802 million) in sales from rapid COVID-19 antigen tests, a figure that previously stood at 200 million euros ($229 million). As a result, Siemens Healthineers expects overall revenue growth for the company of 3% to 5% for the year, compared with the previous estimate of 0% to 2%.
Finally, Siemens said that its Varian radiation oncology division generated 750 million euros ($859 million) in revenues and 117 million euros ($134 million) in adjusted EBIT. As Siemens Healthineers completed the Varian acquisition in April 2021, the company did not have a comparable financial quarter for the business.