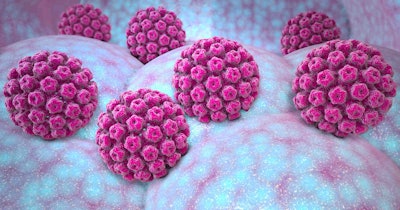 The U.S. Food and Drug Administration (FDA) has granted market approval for the BD Onclarity HPV Assay to be used with the Hologic ThinPrep Pap Test, Becton Dickinson said on Tuesday.
The BD Onclarity HPV Assay individually tests for an extended set of HPV types, including HPV 31, which poses a higher risk for causing cervical precancer than HPV 18. Individual identification of HPV 31 can help better determine risk for cervical pre-cancer and lead healthcare providers to a different clinical risk result than that enabled by multiple genotypes that are reported collectively.
Becton Dickinson noted that its BD SurePath liquid-based pap test vial and the Hologic ThinPrep Pap Test PreservCyt Solution vial are the two most commonly use Pap vials in U.S. laboratories.
"Most tests report multiple HPV types in a single pooled result, which can mask the true risk of developing cervical cancer," Brooke Story, worldwide president of integrated diagnostics solutions for BD, said in a statement. "Being able to identify high-risk HPV 31 individually is critical to the detection and prevention of cervical cancer."
The BD Onclarity HPV Assay detects and identifies 14 high-risk human papillomavirus (HPV) types in a single analysis. The assay reports genotypes beyond HPV types 16, 18, and 45, including types 31, 51, 52, 33/58, 35/39/68, and 56/59/66.