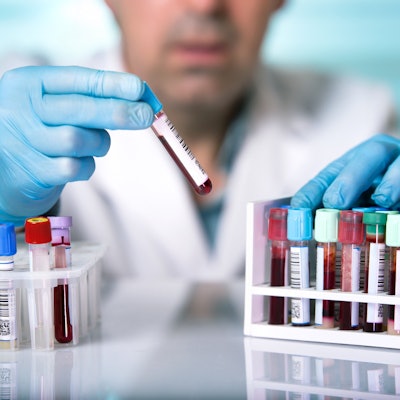 A high level of soluble urokinase plasminogen activator receptor (suPAR) in blood is strongly associated with increased risk for acute kidney injury, and the biomarker has potential for flagging the need for preventive measures prior to surgery in seriously ill patients, according to a study published January 30 in the New England Journal of Medicine.
Soluble urokinase plasminogen activator receptor is a protein made in the bone marrow by immune cells. The study, which was funded by the National Institutes of Health and a range of other groups, evaluated suPAR levels retrospectively in 4,769 patients, including 3,827 undergoing coronary angiography, 250 undergoing cardiac surgery, and 692 who were otherwise critically ill.
The risk for injury rose along with suPAR levels: Those in the highest quartile in terms of blood test results had 3.5 to four times the risk level of those in the lowest quartile.
"We found that preprocedural suPAR levels were predictive of acute kidney injury in both low-risk and high-risk cohorts and across subgroups, independent of relevant clinical characteristics, including baseline kidney function," wrote Dr. David Leaf, director of clinical and translational research in acute kidney injury at Brigham and Women's Hospital, and colleagues (NEJM, January 30, 2020, Vol. 382:5, pp. 416-426).
Furthermore, the results suggest a role for treating those at risk for acute kidney injury with pharmaceuticals prior to invasive procedures. A monoclonal antibody targeted at the urokinase plasminogen activator receptor proved effective in a study of mice with suPAR overexpression, Leaf and colleagues noted. Mice who were pretreated with the antibody had milder histopathological features of acute kidney injury and lower kidney injury scores.
"Despite recent gains in our understanding of the causes and underlying mechanisms of acute kidney injury, few therapeutic or preventive options exist," the authors wrote. "Thus, uncovering new therapeutic targets for the prevention of acute kidney injury is of importance."
Major cause of morbidity
The study just published in NEJM addresses an area of high unmet need, as 2% to 5% of hospitalized patients develop acute kidney injury and the condition "has a major effect on morbidity and [healthcare] utilization," the authors noted. Older adults with multiple medical conditions who are undergoing invasive procedures are particularly vulnerable.
It has been known that exposure to suPAR levels affects the kidneys, but the association with kidney tubular cells and acute kidney injury has been unclear until now, Leaf and colleagues suggested.
The NEJM report included participants who had been enrolled in two studies: the Emory Cardiovascular Biobank (EmCAB) and the Catheter Sampled Blood Archive in Cardiovascular Diseases (CASABLANCA). In the 3,827 patients who underwent coronary angiography, the rate of postprocedure acute kidney injury was 8% overall -- 14% in the quartile with the highest suPAR and 4% in the lowest quartile. After adjusting for clinical characteristics, including baseline kidney function, the suPAR level was still strongly associated with risk for developing acute injury; the adjusted odds ratio was 2.66.
"In multivariable analysis, only diabetes mellitus, history of heart failure, lower [estimated glomerular filtration rate], and higher suPAR levels were independently associated with acute kidney injury," Leaf et al wrote.
A better biomarker?
Leaf and colleagues see advantages for suPAR over other biomarkers that have been proposed to date, such as cystatin C and kidney injury molecule 1, which rise only after renal injury and therefore are not predictive.
"Improved assessment of the preprocedural risk of acute kidney injury would allow for more informed decision making and would help to identify a subgroup of patients who would benefit from an intervention to minimize procedural acute kidney injury, potentially in the form of anti-suPAR therapies," they wrote.
The suPAR biomarker could have a large effect on patients and healthcare systems, according to an accompanying editorial also published in the January 30 issue of NEJM (pp. 470-472). Up to 40% of patients develop acute kidney injury after cardiac surgery, and more than half of patients in the intensive care unit succumb to it, wrote Dr. Frank Tacke, PhD, chair of hepatology and gastroenterology at Charité Universitätsmedizin Berlin.
Commenting on the data from the study of mice, Tacke noted that eliminating suPAR from circulation or neutralizing its biologic effects "might be a plausible strategy to reduce the incidence, morbidity, and mortality of acute kidney injury."
Elevated suPAR levels "should prompt a thorough investigation for acute or chronic coexisting conditions, which will ultimately determine the patients' prognosis," he added.