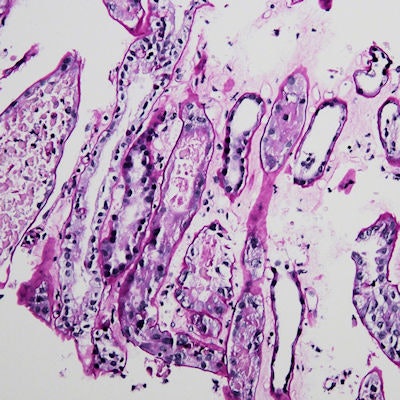 Researchers have found that COVID-19 disease leads to acute kidney injury in almost 40% of hospitalized patients, and biopsies of the organ show that one of the major contributors to this is acute tubular necrosis. But the biopsies do not demonstrate virus in the tissue, according to a study published July 13 in the Journal of the American Society of Nephrology.
Two teams, one led by Dr. Vanesa Bijol of Northwell Health in Manhattan and another by Dr. Purva Sharma of the Feinstein Institutes for Medical Research in Manhasset, NY, found that existing kidney disease can be triggered or worsened by COVID-19. But the biopsies did not show viral presence in kidney tissue.
"What these biopsies show us is that the kidney injury from COVID-19 happens due to complications of the disease and is not because of direct viral infection of the kidney," Sharma said in a statement released by Northwell and the institutes.
The study included 10 patients treated at Northwell Health between March and May who tested positive for COVID-19 and demonstrated symptoms of acute kidney injury. All had biopsies that showed tubular injury; eight of the patients required dialysis during their time in the hospital.
"This is an important step in understanding the pathology findings seen in the kidney in COVID-19," Bijol said. "This will add to the ongoing literature on how COVID-19 affects various organs."