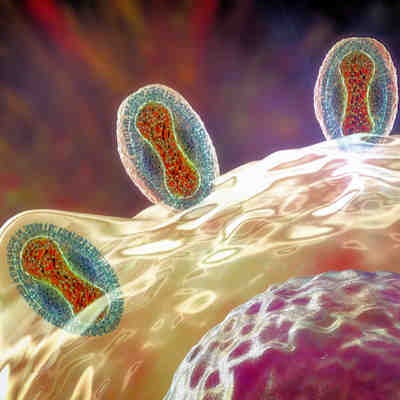 Some monkeypox virus infections may be asymptomatic, according to two studies involving European sexual health clinics.
A Belgian study published in Nature Medicine, which included 224 patient samples, discovered that three of four men with positive monkeypox virus test results reported that they were asymptomatic at the time of testing.
They were symptom-free in the two months leading up to the test and through their follow-up visits about three to five weeks later. The fourth patient had a perianal rash that had been misdiagnosed as a herpes flare-up.
Separately, a French study published in the Annals of Internal Medicine involving 200 samples found that 13 asymptomatic men had positive test results but only two presented later to the clinic with symptoms.
"Whether or not these infections were truly symptom free, the studies suggest that clinicians and individuals at high risk should be aware that monkeypox can go unnoticed -- possibly even when it's transmissible," noted an online article published this week in JAMA Network.
Specifically, the Belgium-based investigators evaluated undiagnosed infections occurring among men attending a sexual health clinic in May 2022 and retrospectively screened 224 samples using a monkeypox virus PCR assay that had been collected for gonorrhea and chlamydia testing. "It is unclear whether asymptomatic or otherwise undiagnosed infections are fueling this epidemic," wrote the researchers in the Nature Medicine study. The findings "show that certain cases of monkeypox remain undiagnosed, and suggest that testing and quarantining of individuals reporting symptoms may not suffice to contain the outbreak," the researchers added.
The French investigators retrospectively performed testing for monkeypox virus on all anorectal swabs collected over five weeks starting in early June as part of a screening program for Neisseria gonorrhoeae and Chlamydia trachomatis.
Writing in Annals of Internal Medicine, they noted that their report documents positive monkeypox virus PCR results from anal samples in asymptomatic men who have sex with men.
"Whether this indicates viral shedding that can lead to transmission is unknown," they wrote. However, if it does indicate viral shedding, "the practice of ring postexposure vaccination around symptomatic persons with probable or confirmed [monkeypox viral] infection may not be sufficient to contain spread."
Ring postexposure vaccination involves vaccinating the contacts of an individual infected with monkeypox.