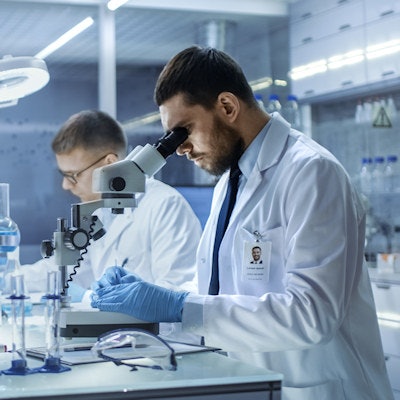 Large cuts in clinical laboratory services would be delayed as part of a U.S. House of Representatives bill that passed on December 7. The legislation would postpone for one year the significant cuts in Medicare reimbursement set to take effect on January 1, 2022.
Called the Protecting Medicare and American Farmers from Sequester Cuts Act, the bill (S 610) would also institute a one-year delay in the data reporting period for clinical laboratory services.
Rep. Bill Pascrell Jr. (D-NJ-09), a senior member of the House Ways and Means Committee, said in a statement that he was especially gratified that the legislation gives a lifeline to America's clinical laboratories.
"During the pandemic, labs and lab technicians have performed Herculean work to defeat the virus," Pascrell said. "If they are not properly funded, the lives of millions would be in peril. Because of our bill, they will continue doing their society-saving jobs with greater peace of mind while we work on a long-term solution to the punishing cuts they face."
The American Clinical Laboratory Association (ACLA) also lauded the bipartisan legislative package, which it said provides relief from yet another year of cuts to many clinical laboratory tests (cumulatively a 27.1% cut to date). Unless Congress acts, almost 600 tests are scheduled to see up to 15% Medicare reimbursement cuts beginning on January 1, according to the association.
"This [bill] is welcome news for seniors across the country, but our work is not yet done," said Tom Sparkman, ACLA senior vice president, in a statement. "We urge Members of Congress to support this measure -- delaying both the payment cut and burdensome reporting -- so we can ensure seniors have access to the critical testing they need to make informed health decisions."
The College of American Pathologists (CAP) also thanked Congress and urged quick passage of the legislation.
"The bill would provide much-needed relief for pathologists and enable them to diagnose the omicron COVID variant and other variants, treat patients, and ensure critical laboratory quality especially in the ongoing pandemic," the organization stated. "The CAP thanks Congress for its continued investments in pathology and laboratory medicine and urges the house and senate to act swiftly to pass this important piece of legislation."
CAP noted that the act would mitigate the fallout from the payment cuts affecting pathologists and the services they provide to seniors beginning in January of 2022.
"The effect of these cuts will further exacerbate health care disparities that exist in rural and urban areas," the organization said. "Our chief concern is that if the Medicare cuts go through in 2022, access to health care services will decrease disproportionally and will grossly affect the physicians caring for our most vulnerable patients."
The bill would also delay the 2% Medicare sequester payment reductions until March 31, followed by a reduction to 1% from April 1 to June 30. To adjust for these changes and to provide support to healthcare providers during the COVID-19 pandemic, the legislation would also provide a one-year, 3% increase in the Medicare Physician Fee Schedule to offset most of the 3.75% cuts in the fee schedule that were scheduled to be adopted due to budget neutrality adjustments. In addition, it will avoid the 4% spending cut from the pay-as-you-go (PAYGO) budget neutrality sequester.
The Protecting Medicare and American Farmers from Sequester Cuts Act was added by the House as an amendment to S 610, a bill passed earlier this year in the Senate that was aimed at addressing behavioral health and well-being among healthcare professionals.
In a letter sent earlier in the week to lawmakers, the ACLA along with groups representing healthcare professionals, laboratories, and diagnostics organizations called on Congress to take immediate action to delay pending cuts that were attributed to a "flawed implementation" of the 2014 Protecting Access to Medicare Act (PAMA). The letter was signed by the American Association for Clinical Chemistry, the American Society for Clinical Pathology, the American Society for Microbiology, and the Association for Molecular Pathology, among others.
After facing the brunt of #COVID19, seniors now face significant health consequences from delayed access to care. Upcoming Medicare cuts for laboratory tests could jeopardize access to care for more than 56 million seniors. Tell Congress to act now:https://t.co/CAFASeSFAo

— Am Clinical Lab Assn (@ACLAlabs) December 2, 2021
"Without action by Congress, Medicare patients could lose access to essential laboratory services. Without ready access to lab tests, patients risk missed or delayed diagnoses, increased barriers to maintaining their health, and forgoing the opportunity to prevent even worse health outcomes or disease," the letter said.