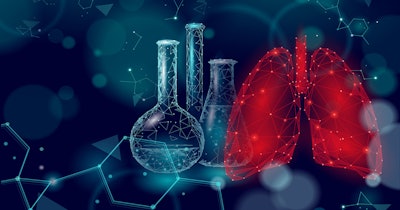 Treating chronic obstructive pulmonary disease (COPD) patients with their own cells improved outcomes in an early-phase clinical trial, encouraging the researchers to plan a larger study.
Currently, COPD patients are primarily treated with bronchodilators that address symptoms without driving the regeneration of lung tissue. Studies in animal models have suggested that it may be possible to help lungs regenerate by administering P63+ progenitor cells, descendants of stem cells that differentiate into cells specific to particular tissue or organs.
To assess if the approach translates into the clinic, researchers in China enrolled 20 COPD patients into a phase I study. The team shared its findings from the trial at the European Respiratory Society International Congress in Milan this week.
"We used a tiny catheter that contains a brush to collect the progenitor cells from the patients' own airways. We cloned the cells to create up to a thousand million more, and then we transplanted them back into the patients' lungs via bronchoscopy in order to repair the damaged lung tissue," Wei Zuo, a professor at Tongji University, said in a statement.
Seventeen participants underwent the cell therapy procedure, and the other three patients served as the control arm. At baseline, half of the subjects had extremely severe COPD, a state in which many patients "will die quite quickly if their disease progresses," Zuo said.
In the clinical trial, the median diffusing capacity of the lungs, a measure of lung-blood air exchange, increased from 30% at baseline to 39.7% in recipients of progenitor cells at week 12. The figure rose again by week 24, climbing to 40.3%. The researchers also tracked improvements in a six-minute walking distance assessment, which was 410 meters at baseline and increased to 447 meters.
Lesions resolved in two patients who had mild emphysema at the start of the study. Buoyed by the findings, the researchers plan to run a phase II clinical trial. The team has received regulatory clearance to run the study in China.