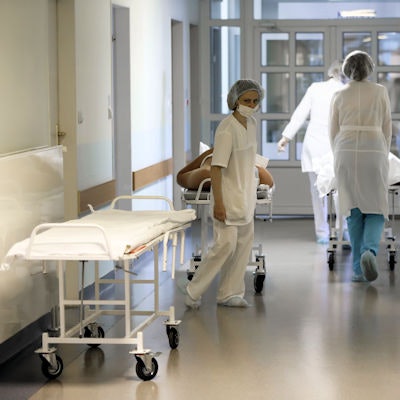 Delays and supply shortages of diagnostic tests for COVID-19 are having a ripple effect on the response of U.S. hospitals to the COVID-19 pandemic, according to a new report released by the U.S. Department of Health and Human Services (HHS).
Hospitals say that delays of up to a week in getting COVID-19 diagnostic test results are creating a crunch in intensive care units (ICUs) as patients must remain hospitalized until their results come back. And supplies for COVID-19 diagnostic kits are in such short supply that some facilities are dividing media in half to double their testing capacity.
The new report was performed by the HHS Office of Inspector General (OIG) to acquire a "national snapshot" of the challenges and needs faced by U.S. hospitals during the COVID-19 pandemic. The report was based on telephone surveys conducted March 23-27 of hospital administrators from 323 hospitals in 46 states, as well as Washington, DC, and Puerto Rico.
The survey focused on questions covering the challenges hospitals face, the strategies they are using to overcome or mitigate the challenges, and how the federal government can support hospitals dealing with the COVID-19 outbreak. Most hospitals said they were treating COVID-19 patients, but some reported that they were not.
One of the most common responses was that hospitals were facing "severe shortages" of testing supplies and extended waits for testing results. While some facilities would normally consider a 24-hour wait to be a long turnaround time for virus testing, during the COVID-19 crisis they have been waiting seven days or more. According to the report, a major problem is the hospitals' reliance on external labs, which are becoming overwhelmed with lab tests to process from around the state or the U.S.
Some hospitals reported getting test results more quickly from commercial labs; others found better experiences with public ones. Others said that test turnaround times were inconsistent, making it impossible for them to predict when COVID-19 results would arrive or how long patients should self-quarantine.
Hospitals reported that the scarcity of testing supplies and length of test turnaround times put pressure on the available supply of hospital beds. While they waited for results, hospitals were forced to keep patients in ICUs on the assumption that they were positive for COVID-19.
The delays also impacted hospital staff, especially given the shortage of personal protective equipment (PPE). Hospital administrators reported high levels of anxiety and fear, with one survey respondent comparing the situation to being "at war."
Finally, the COVID-19 crisis has deeply affected the financial position of many hospitals. In preparation for a surge of COVID-19 patients, many facilities canceled elective procedures, which form a substantial portion of any hospital's revenues. At the same time, hospitals have had to purchase extra equipment like ventilators and PPE.
Some hospitals reported laying off staff, which has exacerbated workforce shortages. They also reported receiving inadequate reimbursement for procedures related to care of COVID-19 patients, as well as receiving conflicting guidance from local, state, and federal authorities.
On the positive side, hospitals reported a number of creative strategies for dealing with the pandemic, such as promoting the use of ambulatory care for patients who are less sick and converting or creating new space to deal with an expected surge of patients. And many requested more government help to deal with the shortfall of testing kits, swabs, and other supplies.