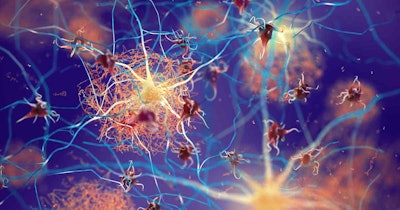 Quest Diagnostics on Monday announced the availability of its AD-Detect blood-based biomarker test on its questhealth.com portal as a consumer-initiated blood test for Alzheimer's disease risk assessment.
The new test uses the same technology as Quest's clinical AD-Detect Amyloid Beta 42/40 Ratio biomarker test for assessing amyloid beta protein, a recognized marker for Alzheimer's, which was made available for physicians in early 2022. The AD-Detect test evaluates the ratio of two peptides of amyloid beta, Aβ42 and Aβ40, in plasma from a single blood draw to detect early signs of Alzheimer's disease risk. The accumulation of these amyloid beta proteins, which subsequently form plaques in the brain, is linked to Alzheimer's disease progression.
"We are seeing much attention on emerging therapies for Alzheimer's disease, but with new treatment options will come the need to make screening and diagnosis more widely available. Blood tests like AD-Detect hold incredible potential to make Alzheimer's disease risk assessment both accessible and convenient," said Dr. Michael K. Racke, medical director of neurology at Quest Diagnostics. "We're also seeing a push from consumers who have a desire to take more control of their health, including within more advanced areas like Alzheimer's disease risk assessment."
Individuals may order the test through the questhealth.com portal; they then will schedule an appointment at a Quest Diagnostics patient service center for the necessary blood draw. The results will be available to the individual through the portal. Although there is no need for the consumer to visit a doctor prior to ordering the test, an independent physician network provides clinical oversight of test ordering and results. In addition, consumers can discuss their results with a licensed physician to gain a better understanding of what their results mean and a possible action plan, including following up with a physician or specialist if appropriate.