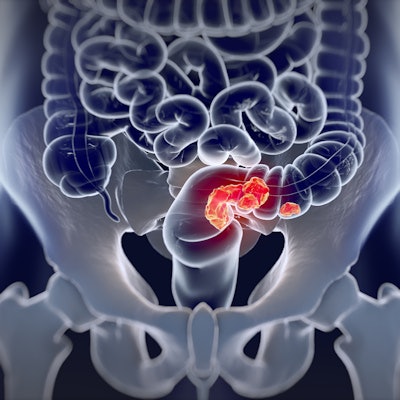 In a debatable move, the American College of Physicians (ACP) advised biennial -- rather than annual -- testing of stool for signs of colorectal cancer in average-risk individuals in a clinical guideline published November 5 in the Annals of Internal Medicine. Furthermore, stool DNA (sDNA) testing did not make the cut.
After reviewing guidelines from several bodies for people with average risk for colorectal cancer (CRC) -- for example, they do not have a family history -- the ACP advised that screening should be done between the ages of 50 and 75. Four different options are recommended:
Biennial high-sensitivity guaiac-based fecal occult blood test (gFOBT)
Biennial fecal immunochemical test (FIT)
Flexible sigmoidoscopy every 10 years with FIT
Colonoscopy every 10 years
In an interview, Dr. Timothy Wilt, chair of the ACP Clinical Guidelines Committee, noted that most studies have evaluated two-year screening intervals, which are easier and more convenient for patients to follow.
"Many of our patients would welcome the opportunity to have less burden and less difficulty doing stool-based testing with similar outcomes in regard to colorectal cancer deaths and overall survival," Wilt said.
The authors evaluated stool DNA tests with FIT as part of the review, but they concluded that there isn't enough evidence to support a recommendation for screening at this time. More research beyond diagnostic accuracy is needed: notably, that there is a reduction in colon cancer-related deaths, Dr. Amir Qaseem, PhD, vice president of clinical policy and the Center for Evidence Reviews at the ACP, and colleagues concluded (Ann Intern Med, November 5, 2019, Vol. 171:9, pp. 643-654).
In contrast, in its screening guidance issued in 2015, the U.S. Preventive Services Task Force (USPSTF) advised FIT or FOBT every year and FIT with sDNA every one to three years. Like the ACP, the USPSTF recommends screening between the ages of 50 and 75. Commercial payors are required to pay for screening tests backed by the USPSTF.
"Screening more frequently than recommended results in little additional reduction in cancer-related deaths but large avoidable [healthcare] costs, more false-positive results, and the harms and burden of the screening procedure," Qaseem and colleagues wrote. "As with other cancer screening tests, more frequent and more sensitive screening strategies can lead to overdiagnosis and overtreatment, although the extent to which this exists in CRC is unknown."
Everybody has an opinion
The ACP issues guidance statements in cases where it sees conflicting recommendations in circulation. In the case of colon cancer screening, several groups have come up with their own take on what should be done -- for example, the age when screening should start, what types of tests are appropriate, and the best screening intervals.
The American Cancer Society (ACS) recommends that screening start at age 45, but this age group has not been studied in randomized controlled trials, and the organization also includes annual FIT and stool DNA tests as screening options. Among other guidelines, the ACP reviewed those from the USPSTF, the Canadian Task Force on Preventive Health Care (CTFPHC), and the American College of Radiology (ACR). Of these, the guidelines from the USPSTF and the CTFPHC were the most rigorous and independent, the group concluded. The CTFPHC recommends biennial screening with FIT or FOBT.
"Strategies differ in the quality of evidence regarding clinical effectiveness, harms, patient burden, recommended frequency of administration, and test accuracy," Qaseem and colleagues wrote. "All strategies require adherence to the complete regimen of screening, follow-up testing, and treatment because benefits are accrued from identification and removal of precancerous lesions and localized cancer."
The authors pointed out that the USPSTF relied heavily on modeling to inform its screening recommendations, whereas the CTFPHC did not.
The ACP also advised that high-sensitivity gFOBTs are the most available and recommended type of fecal occult blood tests and that the sensitivity and specificity of FITs "vary considerably."
"Generalizations about FIT should be considered with this important caveat," the authors wrote.
However, unlike with gFOBT, no dietary restrictions are required with FIT and only one sample is needed, not three, they pointed out. As for stool DNA, most information on this option comes from a "single diagnostic accuracy study in which the authors had potentially important conflicts of interest," they wrote.
"Although FIT plus sDNA is associated with higher sensitivity than FIT (92% for CRC and 42% for adenomas), it has lower specificity (84% for CRC and 87% for advanced adenomas) and increased harms associated with colonoscopy follow-ups due to more false-positive results," the authors wrote. "Uncertainty exists in follow-up of patients with a negative colonoscopy finding after positive results on an FIT plus sDNA test."
The ACP did not rank the testing options; rather, it advised clinicians to choose the method that fits best for a particular patient, based on preferences, benefits, harms, costs, and availability, among other factors. Surveys suggest that primary care patients prefer screening tests that are noninvasive, require no preparation, and are not painful, the authors noted. And FIT with sDNA is more expensive than FIT, they wrote.
"In addition, given the tradeoffs between benefits and harms, some patients may want less intensive screening, such as screening that begins at a later age, stops at an earlier age, or recurs less frequently regardless of modality selected," the authors wrote.
Comparison of costs for colon cancer screening tests
Screening strategy
Frequency
Unit cost
10-year cost
gFOBT
Annual
$6-$28
$60-$280
Every 2 years
$6-$28
$30-$140
FIT
Annual
$20
$200
Every 2 years
$20
$100
Sigmoidoscopy, without biopsy
Every 5 years
$715-$3,384
$1,430-$6,768
Screening colonoscopy
Every 10 years
$911-$6,946
$911-$6,946+
CT colonography, no contrast
Every 5 years
$337-$1,538
$674-$3,076+
sDNA
Every 3 years
$509
$1,527
Source: Qaseem et al,
Annals of Internal Medicine
.
More screening pays off
Reconciling differences in sets of guidelines has been a challenge given that important questions have not been answered in clinical trials, Dr. Michael Pignone, chair of internal medicine at the University of Texas at Austin, wrote in an editorial also published November 5 in the same journal.
"One controversial aspect of the ACP guidance for U.S. providers is the recommendation of biennial rather than annual stool testing, which seems to have been based on a lack of clear additional benefit from annual testing in randomized trials," he wrote. "However, these studies were not powered to rule out moderate differences in effectiveness."
Annual stool testing is more effective, and while it does cost more, the additional expense is modest in terms of quality-adjusted life years, at $33,000 per life year gained. Similarly, starting screening at age 45 would cost more, but it would be within reason, at $7,700 per life year gained.
However, Pignone also pointed out that focusing on boosting screening rates in older adults would provide more benefit and bang for the buck.